As violence against Asian Americans across the United States grows, advocates are urging community members to end Asian hate and to address issues of systemic racism.
Among those pushing for change is the national coalition Stop AAPI Hate. The nonprofit group began gathering personal stories of hate, violence, harassment and discrimination against Asian Americans and Pacific Islanders in the wake of an "alarming escalation in xenophobia and bigotry" spurred by the COVID-19 pandemic and surrounding racist rhetoric that tied the outbreak to the Asian community. Their research collected 3,795 reports of hate between March 19, 2020 and Feb. 28, 2021, with data showing that women reported twice as many incidents as men.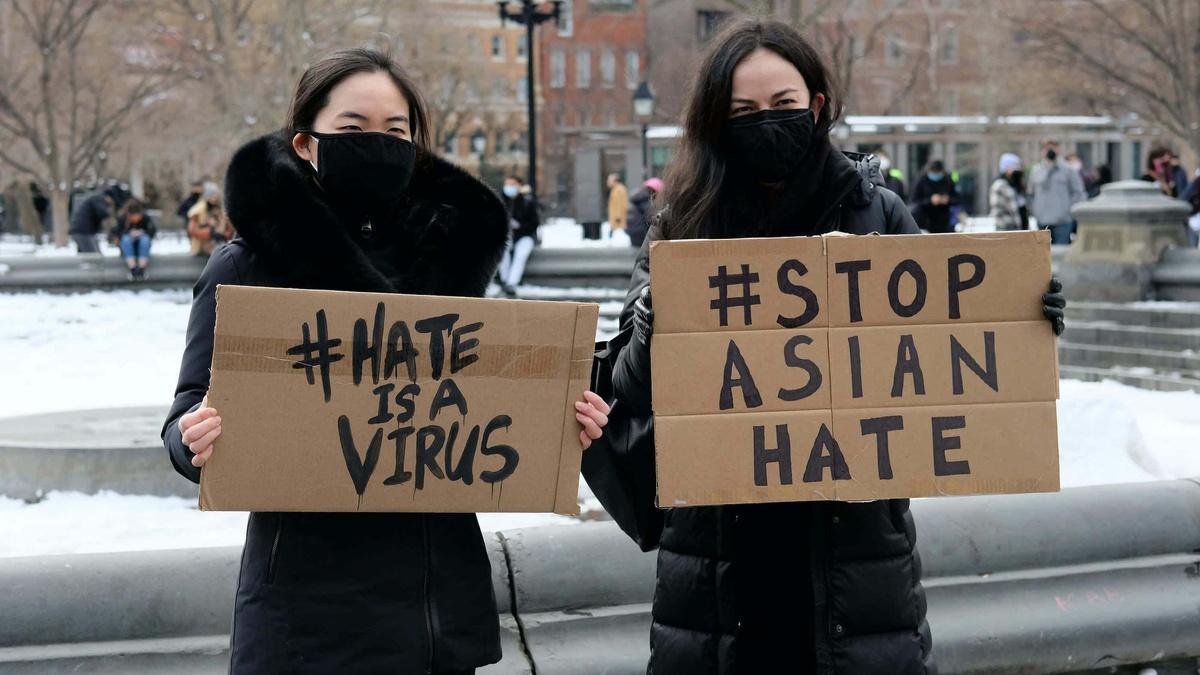 This call-to-action intensified after a gunman killed eight people, six of whom were Asian women, in a shooting spree at three spas in the Atlanta area Tuesday night.
"Many allies are asking, 'How can we support the Asian community in New York City during this time of great stress and heightened fear?'" Manhattan Councilmember Margaret S. Chin said in a statement on Twitter Wednesday. "I want to see deep change that goes beyond reaction and commentary. The support that we need is day-to-day interactions between communities. To make lasting change, there needs to [be] consistent support between communities of color."
Examples of community actions within the New York City arts community and beyond abound, with many organizations and artists sharing links to resources to help individuals get involved on a local and national level through rallies, conversation, music and patronage.
On Instagram, porcelain ware shop Wing On Wo & Co highlighted the work of Red Canary Song and Asian American Feminist Collective NYC, stating that 10% of their sales for the month will go toward the organizations' "fight for labor rights of migrant and sex workers and their efforts to build an intersectional Asian American feminist perspective for us to view the world." Phil Chan — who co-founded Final Bow to Yellowface with Georgina Pazcoguin to challenge racist Asian stereotypes in the ballet world — invited community members to take part in a call on Sunday to further organizing efforts.
In February, artist Amanda Phingbodhipakkiya, whose work appears on the March 19 cover of TIME, released some of her poster designs for the "I Still Believe In Our City" campaign into Creative Commons for use at rallies and protests. "We need everyone in this fight, whether you're an ally standing in solidarity or an Asian American fighting for your right to live with respect and dignity," she wrote in the caption.
Here is a small sampling of resources to help support Asian communities and to get involved with advocacy.
New York City Resources:
Asian American Feminist Collective (NYC)
Asian Americans for Equality NYC
CAAAV Organizing Asian Communities
Chinatown Block Watch
+ Email to volunteer
Chinese-American Planning Council
I Still Believe Posters for Protests and Rallies
* Designed by Amanda Phingbodhipakkiya
Main Street Patrol Volunteer Application
Welcome to Chinatown
+ Read the Welcome to Chinatown small business directory
+ Download their protest posters
National Resources:
Asian Americans Advancing Justice
Asian American Feminist Collective
Asian American Journalists Association
Asian American Legal Defense and Education Fund
The Asian American Performers Action Coalition
Asian American Writers' Workshop
Asian Mental Health Collective
Asian, Pacific Islander, and South Asian American (APISAA) Therapist Directory
Black and Asian Feminist Solidarities
+ Check out their reading list
The Center for Asian Pacific American Women
National Asian American Theatre Company
National Asian Pacific American Women's Forum
To Read:
On the rise of violence against Asians in New York, as reported by the Asian American Bar Association of New York

The Stop AAPI Hate 2020-2021 National Report
"Political Solidarity Is a Solution to Attacks Against Asian Americans," by Julie Ae Kim
A hate crimes task force and pro bono legal resource guide, by National Asian Pacific American Bar Association
Resources to Stand in Solidarity with Asian Americans, by the South Asian Queer + Trans Collective
"Final Bow to Yellowface," by Phil Chan
A reading list of Asian history, solidarity and feminism, curated by Mimi Zhu
Asian American and Pacific Islander-owned bookstores to support, by Libro.fm
To Learn:
Bystander Intervention Training, via Hollaback! and Asian Americans Advancing Justice
To Report:
Stand Against Hatred, via Asian Americans Advancing Justice