In 2016, the Repertory Theatre of St. Louis presented the world premiere of Dael Orlandersmith's one-woman show "Until the Flood." To supplement the streaming debut of the work, we're sharing an interview with the playwright conducted by Associate Director of Education and Publications Manager Sarah Brandt for the theater's program guide. 
Watch the full performance of "Until the Flood" here or on our free app wherever you stream. Scroll to the bottom of this post for additional resources and catch our ALL ARTS Talks live discussion with Orlandersmith and artist Sherman Fleming here.

---
An interview with playwright Dael Orlandersmith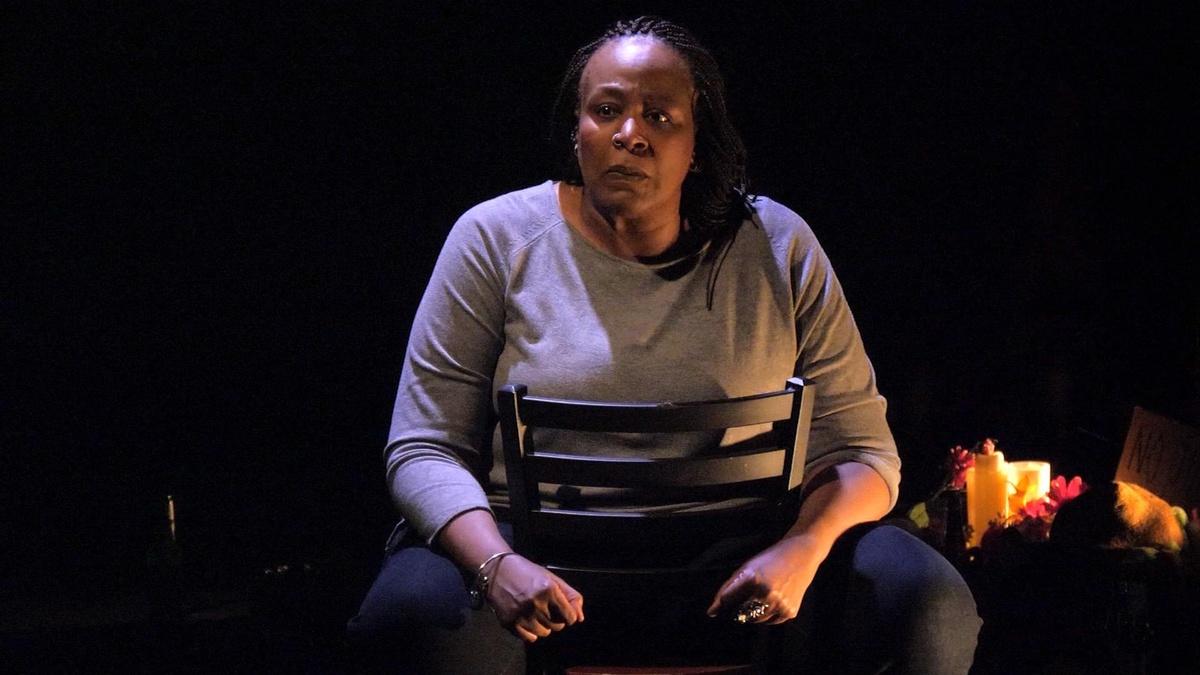 Missouri — Writing a play is no small task, and it becomes even more challenging when the subject matter is as sensitive and timely as the events that are explored in "Until the Flood." We sat down with Pulitzer Prize-nominated playwright and solo-performance artist Dael Orlandersmith to find out a little more about how she created this world premiere play.
Why did you want to write this play?
Well, actually, the Rep came to me. I said yes because I think it's important. I want to tell a story. I want to go beyond what's right, who's right, who's wrong. How does this shooting affect people? In terms of race, how far have we come? Those are the questions that have come to mind. What does it invoke, provoke in you? What kind of thought?
What sort of preparation did you do?
Seth Gordon and I, we met with Michael Brown, Sr. and a few other people, a lot of political activists, and people who are just generally in town. I wanted to look at that because, you know, race is obviously a very … it's high voltage. It's a high voltage situation. I wanted to see exactly how far we've come, which is interesting to me, in terms of, say, from the '40s on. And also, what does it mean to the individual? What does race mean to an individual? How does it affect individuals, and how far has St. Louis come?
What does it mean to be a part of this? And then again, for me as a New Yorker. I find that a lot of people in St. Louis just want to put this down. And a lot of other people have said it's just an everyday occurrence. So it's about showing those perspectives.
So the people we meet in the play — are these people you met?
They are composite figures. Because I made it very clear to everyone that I spoke with — I don't have a right to invade your life that way. I have a right as a playwright to tell a story. But I don't have a right to dig into someone's life like that. Because that's no longer about theatre; that's perverse voyeurism. A word that I use heavily is "boundary." The role of certain types of theatre, we are supposed to be mental and emotional travelers, but having said that, if I write about someone's life directly, that makes me responsible for them in certain ways that I don't feel comfortable with. And given where that person is within their life, it can invoke and provoke a lot of stuff that they just won't be able to deal with. I'm not a therapist. And I actually said that to everyone I spoke with.
You've written in many formats — poetry, plays, solo-performance — what made you choose the solo performance piece for this play?
It's an interesting format. I want to look at how one person, not just myself — if the play goes on, I want other people to do it — how one person can embody a kind of humanity. Aspects of humanity. I think that's interesting, because it does start with one person. How does one person take in the world? We always see the collective, but the collective starts with the individual. Individuals form a collective, right? So how does one individual take in the world?
"I want to go beyond what's right, who's right, who's wrong."
So you're the writer of this play, and you're also the solo performer, but also are working with a director. Tell us how that works. Since you're the one who's created this, what does the director give to you?
Neel Keller, yeah, he's a great director. He actually sent me some stuff yesterday, I'm gonna look at it this week. He can tell me what is overwritten, what we can cut, what we can emphasize. It's a third eye. I find that very few people can direct themselves. What sound bites do we need? How does a character need to be fleshed more? Both on the page and on the stage. In terms of technique — how to bring it alive on the stage. And then we combine these ideas. And as an actor, I can overact, so he's there to yank me in. We don't want to beat the audience over the head with this, and I can tend to do that as an actor.
So when you've finished a performance and the lights go down, is there anything in particular that you're hoping the audience takes away?
Did I give them permission to feel both comfortable and uncomfortable? That's what interests me, because I don't speak for people, I speak to people. Because when you start speaking for people, you get on a political tirade and I know this situation goes beyond the political. It extends itself into personal stories and the emotional and how we live on a day-to-day basis. What are our personal narratives? And how do we feel about this, knowing this could have happened with these two young men?
---
Additional Resources
The ALL ARTS presentation of "Until the Flood" was made possible by A Contemporary Theatre in Seattle, Wash.; Center Theatre Group in Los Angeles, Calif.; Denver Center for the Performing Arts in Denver, Colo.; Goodman Theatre in Chicago, Ill.; Milwaukee Repertory Theater in Milwaukee, Wis.; Portland Center Stage in Portland, Ore.; Rattlestick Playwrights Theater in New York, N.Y.; and Repertory Theatre of St. Louis in St. Louis, Miss.
Dive deeper into the work with the following list of additional resources, provided by the participating theaters from materials presented during the their stagings of "Until the Flood."
The Repertory Theatre of St. Louis
Milwaukee Repertory Theater
Portland Center Stage
Center Theatre Group
Top Image: Dael Orlandersmith in "Until the Flood." Photo: Robert Altman.