Andrew Bambridge speaks about his journey to becoming an artist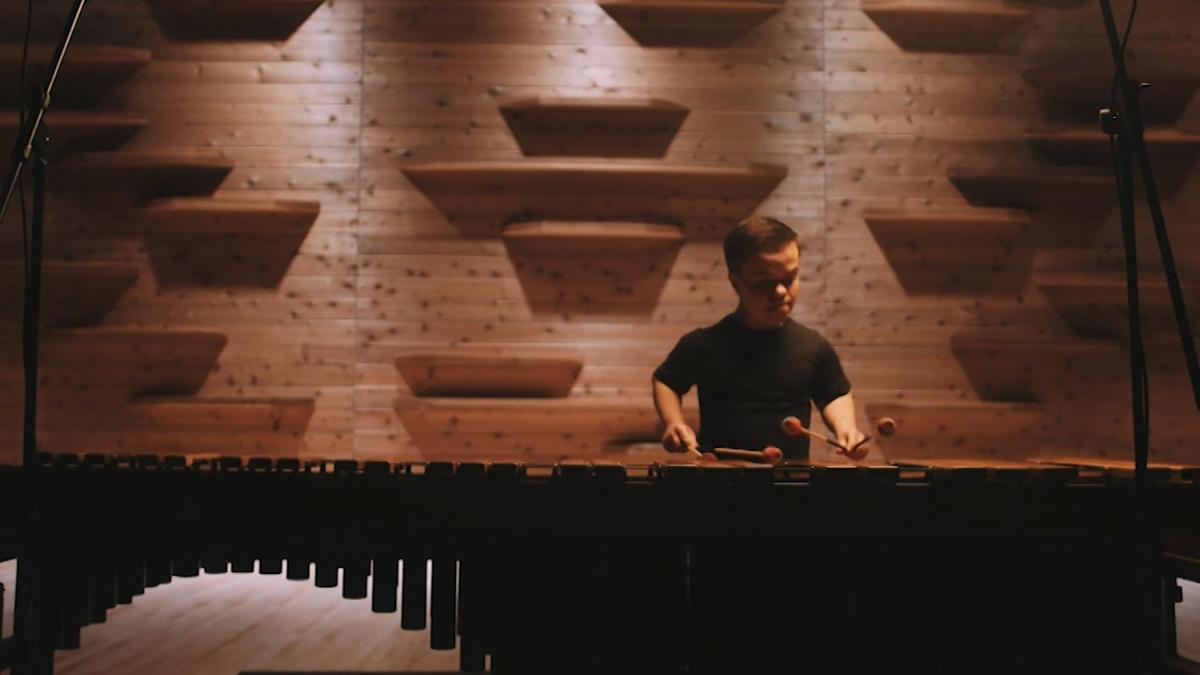 For percussionist, composer and actor Andrew Bambridge, joy comes with connection — whether this is performing on stage or screen.
"What brings me the biggest joy is connecting," the recent Rutgers University grad says in the latest episode of "Rising Artist," now streaming on ALL ARTS. "This can be the connection I feel when I listen to a piece of music that I really relate to, or the connection I feel when I have an intimate conversation with a friend. This also includes the connection that I feel with the audience when I perform, especially when I'm performing a piece of my own that's really personal to me."
Bambridge is a master of the marimba. His passion for the instrument began in middle school, where he was introduced to a Ross 3.0 octave marimba. The musician, who was born with achondroplastic dwarfism, explains that the instrument was the first he played that was easily accessible to him. As he progressed through high school, moving to a standard size instrument, he began using a platform, which he fine-tuned with his dad.
"Playing percussion can be very physically demanding, especially playing the marimba," he says in the interview. "When I'm practicing marimba, I'm constantly moving around — usually repeating the passages that are most physically demanding because those are the ones that I have to work on the most in order to play the piece accurately."
As a theater and screen actor, Bambridge likes to make people laugh. "It made me feel so happy whenever I did something funny on stage and it got the audience laughing," he says, recounting the comedic roles he played in community theater and at his school.
This love of response caused the actor to mark a definitive difference between performing on stage and for cameras. While filming the movie "Pixels," in which he plays the younger self of Peter Dinklage, he recalls that "no one on set could laugh."
"I remember the first time it happened, I was kind of a little bit shocked, like maybe I hadn't been that very funny," he says. "But then I started to realize and get kind of used to the fact that no one was going be able to react."
Bambridge says that he has always considered himself a student, but that he began thinking of himself as an artist when he started working on a piece that fused by Stuart Saunders Smith titled "Songs I–IX" — a work called for an actor-percussionist, combining his two talents.
"In that piece, I got to utilize the skills I developed from my musical and percussion training, as well as take inspiration from actors I really liked — specifically the fearlessness they showed in their physical comedy," he says. "I remember thinking to myself that I cannot be afraid to put myself out there. Even if I will take a fool to some people."
Debuting in the piece marked a defining moment for Bambridge.
"That first performance for me as still one of the most exhilarating performances I've ever had," he says. "And it was then when I knew I was an artist."
Learn more about Bambridge in the video above, and be sure to check out our "Rising Artist" series for more profiles.
Top Image: Andrew Bambridge. Photo courtesy "Rising Artist."