Take a peek into the guck-filled, poetic world of "FALLING & LOVING"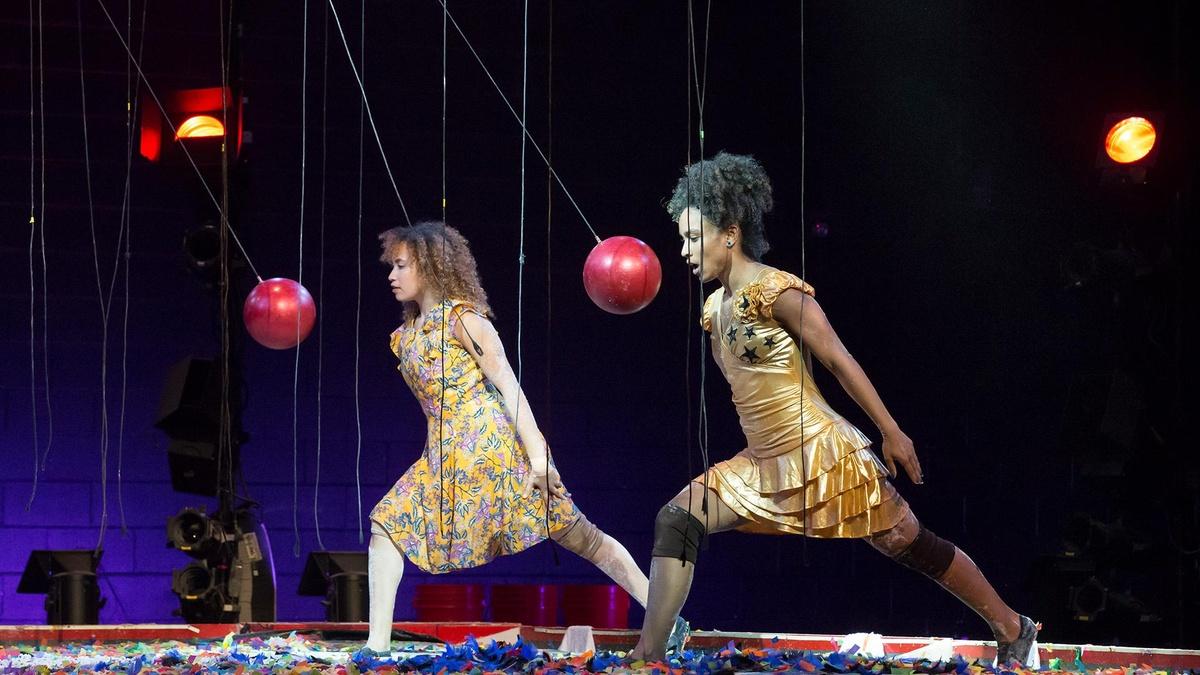 Part of the fun in "FALLING & LOVING" is how the shock of what comes next arrives for both the audience and performer at the same time.
Created by choreographer Elizabeth Streb and director Anne Bogart, the avant-garde performance brings together Streb Extreme Action dancers and SITI Company actors to create a collision of sound and daring acrobatics. Throughout the work, the ensemble performs under a humongous "Guck Machine," built from 52 five-gallon buckets suspended above the stage and attached to dangling strings.
In the midst of flying bowling balls, soaring stunts and daring acting, the cast pulls on these strings, releasing a surprising cascade of flour, water, molasses, confetti, popcorn and, well, other forms "guck." The substances, complete with their unique falling patterns, add unexpected elements to the choreographed work.
Sign up for our newsletter
Countering the high-octane action of the movements are the words of playwright Charles Mee, whose texts provide another layer of investigation within the dynamic world crafted by Streb and Bogart.
The 12-person group (six dancers from Streb and six actors from SITI) making up "FALLING & LOVING" performed the piece last September at the Alexander Kasser Theater at Montclair State University, where it was filmed by ALL ARTS.
The Oct. 11 streaming debut of "FALLING & LOVING" landed at a bittersweet moment, arriving just days after SITI (ran by Bogart and Tadashi Suzuki) announced the theater company will stop touring and performing at the conclusion of its 30th season.
We've gathered photos from "FALLING & LOVING" for a crash look into the production, which you can stream above, on the PEAK HD program page and on our ALL ARTS app.
---
"FALLING & LOVING" is the first episode in the PEAK HD series, which continues on ALL ARTS Nov. 8 with a performance by Martha Graham Dance Company.
Top Image: "FALLING & LOVING." Photo: Marina Levitskaya.