Sagarika Sundaram creates dynamic fiber artworks from hand-dyed wool, sourced from farms in the Himalayas and Hudson Valley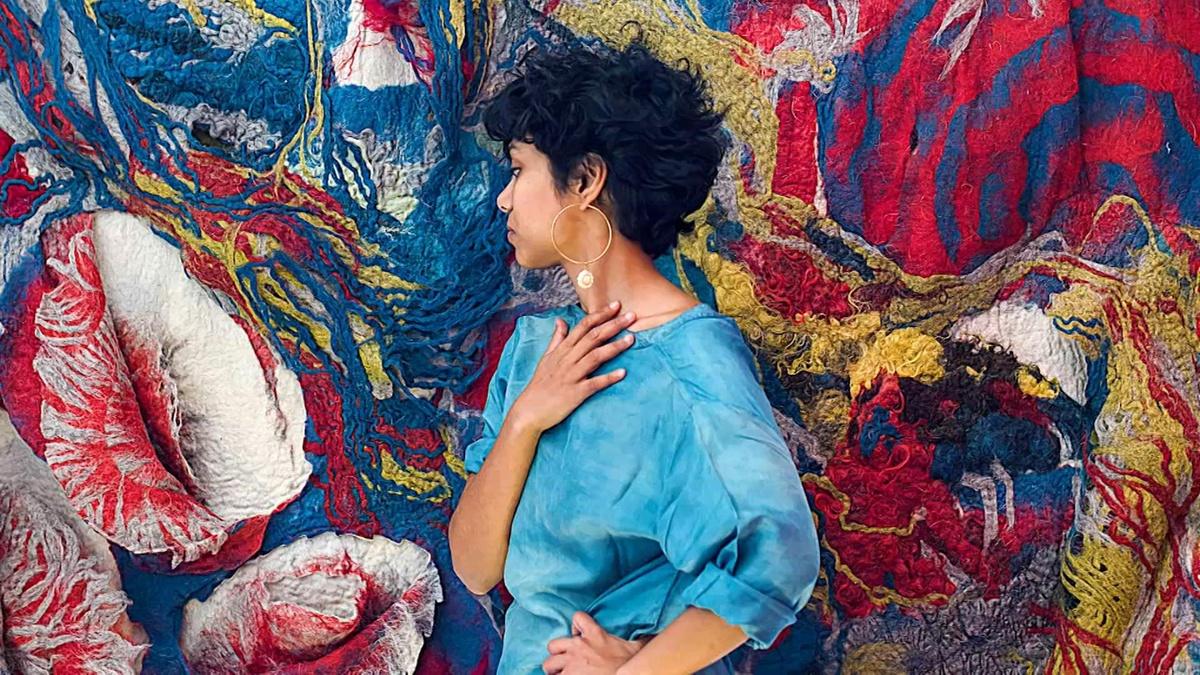 For Sagarika Sundaram, textiles combine art and science. Her works, sculptural in form, are made from wool-felt, dyed by hand and arranged into pieces that exude movement and life.
"When I'm working with felt and thinking about structure and form, often it feels like an exercise in engineering," Sundaram says in a new episode of "Rising Artist," now streaming on ALL ARTS. "Obviously, it's also the tactility of working with my hands and working with color. I just feel awake with textiles."
Sundaram's works, vibrant and organic, begin long before the wool reaches her studio, where it will be soaked, molded, rolled and interlocked into its final form
Sourced from pastoral farms around the world, the materials used in her textiles come from communities in the Himalayas and the Hudson Valley. "It's important for me to source from people who grow fiber," the Parsons School of Design M.F.A. graduate explains. "It's not something that I buy from the shop."
The processes used by the artist to transform the wool draw on techniques from India and early civilizations, Sundaram explains, noting that the textile practices at the root of her art stem from livelihoods, not hobbies. "I feel so lucky that I was born in India because India —and South Asia at large — has the longest unbroken tradition of living textiles in the world," she says.
She also turns to architecture for inspiration, an element that comes through in the structural shapes of her felt creations, which seem to exist with histories of their own.
"My work generates a dialogue with philosophy, history and literature through a colorful, contemporary craft-based vernacular, interrogating human nature — who we are, where we come from and where we are going," Sundaram recently told ALL ARTS.
All of these components come together in the triumphant piece "Oracle," her first large-scale work. Sundaram describes the rectangular textile as a "blue work" that "looks like an ocean floor, a map." Comprised of several individual elements woven together to create an undulating landscape, the piece is a tapestry of forms (some reaching out, others across) and explosive colors – blue, red, yellow and cream.
"I put it up, and then I had to take some time just between me and it, and sit with it, and just look at it, and talk to it, and actually let it talk to me," she says. "It was telling me a lot of things, non-verbally."
Upon creating the piece and sitting with it, Sundaram realized her role as an artist.
"That's when I really knew that I have to continue this; I cannot stop this," she says, explaining that to do so would be a disservice to herself. "That's when I knew that I'm an artist."
Learn more about Sagarika Sundaram's artistic practice in the video above and be sure to check out our "Rising Artist" series for more.