Watch as the French installation artist Annette Messager creates a virtual exhibition showcasing the work of five women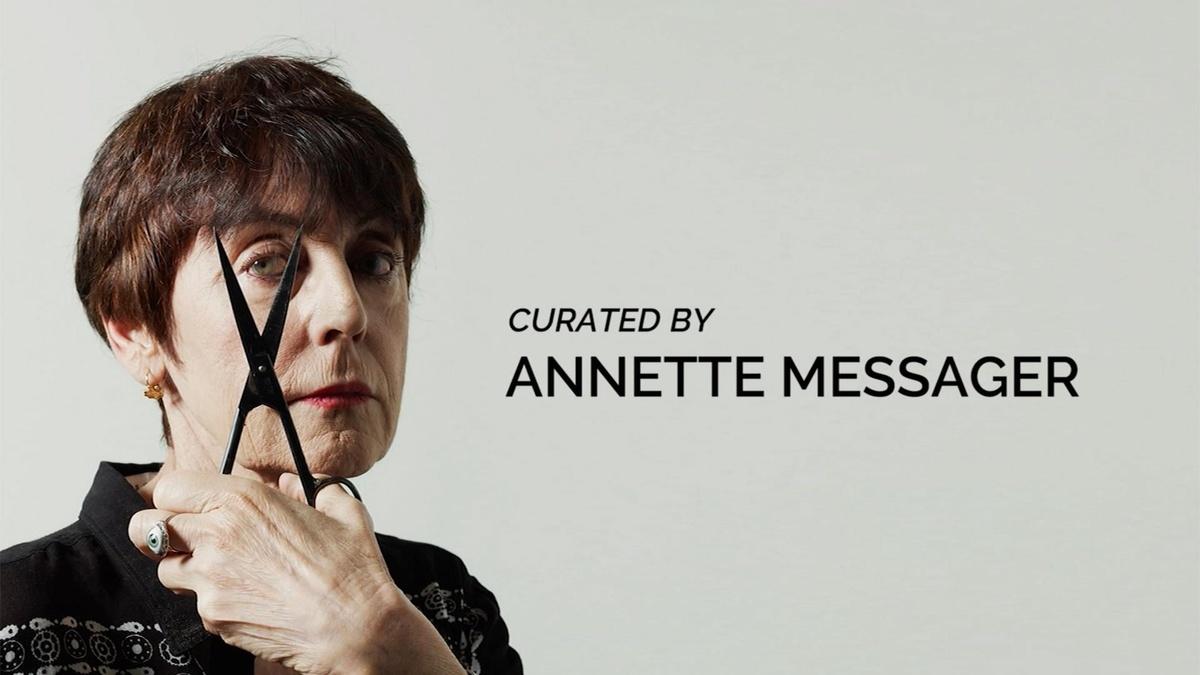 For Annette Messager, recognition as an artist came slowly. Born in 1943 in Berck-sur-Mer, France, she began pursuing art in the late 1960s. Her work, built of collection and surprising assemblages, spins eerie worlds out of photographs, embroidery, animal limbs and sculpture. Her focus on women and her, at times, macabre aesthetic provoked controversy in the early days of her career.
Within recent decades, Messager has reached critical acclaim, exhibiting internationally and winning prestigious prizes, such as the Golden Lion at the Venice Biennale in 2005 and the Japan Art Association's Praemium Imperiale in 2016. In May, she contributed watercolor sketches to the major European group show "Unprecedented Times," shown at Austria's Kunsthaus Bregenz and featuring artists William Kentridge and Marianna Simnett, among others.
"Of course, it was difficult in the beginning to be accepted or even noticed, especially in France," she recalls in the film "Women Artists: Annette Messager," now streaming on ALL ARTS as part of a four-part series. "One can say that this is a chauvinist country. I took the liberty to do what I like. In my work, I've always addressed the search for my female identity. In the early '70s, that was not accepted at all."
Stuffed birds pinned in tiny, knitted coverings and photographs of babies with their eyes scratched-out laid the groundwork for Messager's career, which draws on childhood associations only to upend them. The documentary posits that these early pieces "challeng[ed] our ideas of cuteness."
"She launched a frontal attack on our desire to protect ourselves from the brutal reality, by retreating into an idyllic world," a narrator explains. "Annette Messager destroys it."
In the film, Messager becomes a curator, creating a virtual showcase of five women artists, including Alina Szapocznikow, Lynda Benglis, Eva Hesse, Elika Hedayat and Emma Dusong. Over the course of the documentary, she speaks about elements of the artists' work and arranges select pieces from their oeuvre into a maquette, which is then rendered into a digital space.
Messager begins with Szapocznikow, who was born in 1926 in Kalisz, Poland. In her adolescence, the sculptor survived a Jewish ghetto, in addition to three German concentration camps. After the war, she moved to Prague and then Paris, where she studied sculpture at the École des Beaux Arts. Taking the human body as her subject, the artist created sculptures out of synthetic materials and chewing gum (which her husband, Roman Cieślewicz, photographed, blowing the chewed pieces up to abstract scale).
"She enclosed photographs of faces and body parts in the material, deforming the images," Messager said of Szapocznikow's inclusion sculptures, created by immersing objects into a synthetic medium. "Very expressionist works developed this way, too expressionist for the times, I believe. She was too sexual, a woman. It was all much too much."
For commercial purposes, Szapocznikow created lamps in the likeness of body parts, stating: "I must sell, I must sell, I must absolutely sell. So I create lamps with genitals, phallic objects — nice things like that — a cable, and then you can turn on the light inside."
Messager places Szapocznikow's work in conversation with sculptor Lynda Benglis, who also utilized synthetic materials. In her large-scale works, the Louisiana-born artist imagined organic shapes that flowed and took on what comes across as an internal velocity.
"In the beginning, she was more of a painter than a sculptor, I think," Messager says while looking at an older floor piece by Benglis. "She mixed many different colors — first on the canvas, later on the floor. I believe that was before she molded things in space. She liked Pollock and the American Expressionists. This piece is made of latex with different colors mixed in, which then spread more or less at random, like a long ribbon."
On the walls of the virtual gallery, Messager affixes one of Eva Hesse's rope pieces. She also places a box ("Accession II, 1968") created by the influential Minimalist sculptor in the space, juxtaposing the overflowing lines of Benglis and Szapocznikow with sharp edges.
Born in Nazi Germany, Hesse grew up in New York, where she trained as a painter. She began experimenting with three-dimensional works in the 1960s before taking a year-long residency in Germany, where she honed this approach.
"It is the Minimalism in Eva Hesse's work that interests me most," Messager says, later noting the influence Hesse has had on her own work. "She is actually very Minimalist, and simultaneously sentimental, which is a contradiction, but she's succeeded in uniting these opposites."
Two younger artists, Elika Hedayat and Emma Dusong, round out Messager's imagined exhibition.
Hedayat, born in Tehran, Iran, creates drawings, documentaries and installations that investigate her childhood and the trauma of war. Sourced from nightmares gathered by the artist from others, her pieces take on a haunting, dystopian quality.
Messager notes that Hedayat, who studied with the artist in France, moves between Tehran and Paris — a facet that comes across in the work.
"In her videos, she allows people to speak about their nightmares or about their childhood games, which always have something to do with war, with what happened in that country," Messager says. "It is a real trauma."
In the documentary, Hedayat explains that seeing massive demonstrations after the 2009 presidential elections in Tehran sparked her style and approach.
"I was confronted with things that touched me deeply," Hedayat said. "That's what ignited my work method — observation and creation of this universe that you find in my drawings. A universe that represents an authoritarian system, in search of a utopia, its own utopia. But because it wants to force this utopia, it gets out of control. The system degenerates into a dystopia. It turns into its opposite."
Messager contrasts the work of Hedayat with that of Dusong, who uses music as her medium.
"The two are opposites," Messager says of the artists. "Emma Dusong is a loner, and Elika makes films with friends and other people."
In her performances, the French composer walks solitarily through space, accompanied by everyday objects turned into art pieces. Suitcases, mailboxes and desks take on whimsical qualities, drawing in viewers to not only hear her sing but to watch her interact with the objects.
"Emma sings by herself and her songs are about her mother, her family, about others," Messager says. "She's always completely alone, but surrounded by objects that hint at the presence of others."
Watch "Women Artists: Annette Messager" on the ALL ARTS site and free streaming app, where you can see three more films in the four-part series.
Top Image: Annette Messager in "Women Artists: Annette Messager."