We've rounded up a selection of performances and events to stream this week. Have a favorite performance that we missed? Leave us suggestions in the comments below.
When: Sept. 1 at 7:30 p.m. Eastern
Where: The American Ballet Theatre YouTube
"Cooper, you're an amazing dancer, and you're a great choreographer, but as a boyfriend you kind of suck." – Amanda Schull as Jody in "Center Stage"
Update: Watch the reunion below.
Cue up Jamiroquai's "Canned Heat," American Ballet Theatre (ABT) is celebrating 20 years of "Center Stage" with a virtual cast reunion. Devotees to the 2000 cult classic will be pleased to see American Dance Academy favorites Zoe Saldana, Amanda Schull, Sascha Radetsky and Ethan Stiefel, who will gather to talk about the film and its enduring legacy. Journalist Poppy Harlow will moderate.
The evening will benefit ABT's Crisis Relief Fund, established to provide emergency aid to dancers, crew, ballet masters musicians and faculty while the company is shuttered. A private Zoom reception for those who purchase tickets will be held prior to the 7:30 p.m. event. More information here.
---
When: Sept. 3 at 2 p.m. Eastern
Where: Zoom; link sent with registration
Theater of War Productions, which uses Greek tragedies to discuss contemporary social issues, continues its virtual series with "The Oedipus Project UK." The dramatic reading of Sophocles' "Oedipus the King" serves to launch a conversation about the plague and the ongoing impact of the COVID-19 pandemic.
Kathryn Hunter, Damian Lewis, Lesley Sharp, Clarke Peters, Jason Isaacs, Nyasha Hatendi, Brìan F. O'Byrne and Nick Holder will perform. The event will be translated, directed and facilitated by Theater of War's Bryan Doerries.
When: Sept. 3 at 8 p.m. Eastern
Where: Zoom; link sent with registration
Author Chanel Miller will discuss her memoir  "Know My Name" with "Long Live the Tribe of Fatherless Girls" writer T Kira Madden. Released in 2019, the book chronicles the author's sexual assault by Brock Turner in 2015 and the events that followed, including the changing of her name from Emily Doe to Chanel Miller.
Hosted by Powell's Books, the conversation continues the independent bookseller's virtual talk series.
---
When: Sept. 4 and 5 at 7:30 p.m. Eastern
Where: The Metropolitan Opera website
As part of its "20th Century and Beyond" week, the Metropolitan Opera will stream the Gershwins' "Porgy and Bess" for free two nights in a row. Drawn from a Feb. 1 performance earlier this year, the James Robinson production stars bass-baritone Eric Owens and soprano Angel Blue, with conducting by David Robertson. Choreography is by Camille A. Brown.
While you're waiting for the stream to go live, check out this behind-the-scenes interview with "Porgy and Bess" cast members Denisha Ballew, Rebecca L. Hargrove and Karmesha Peake.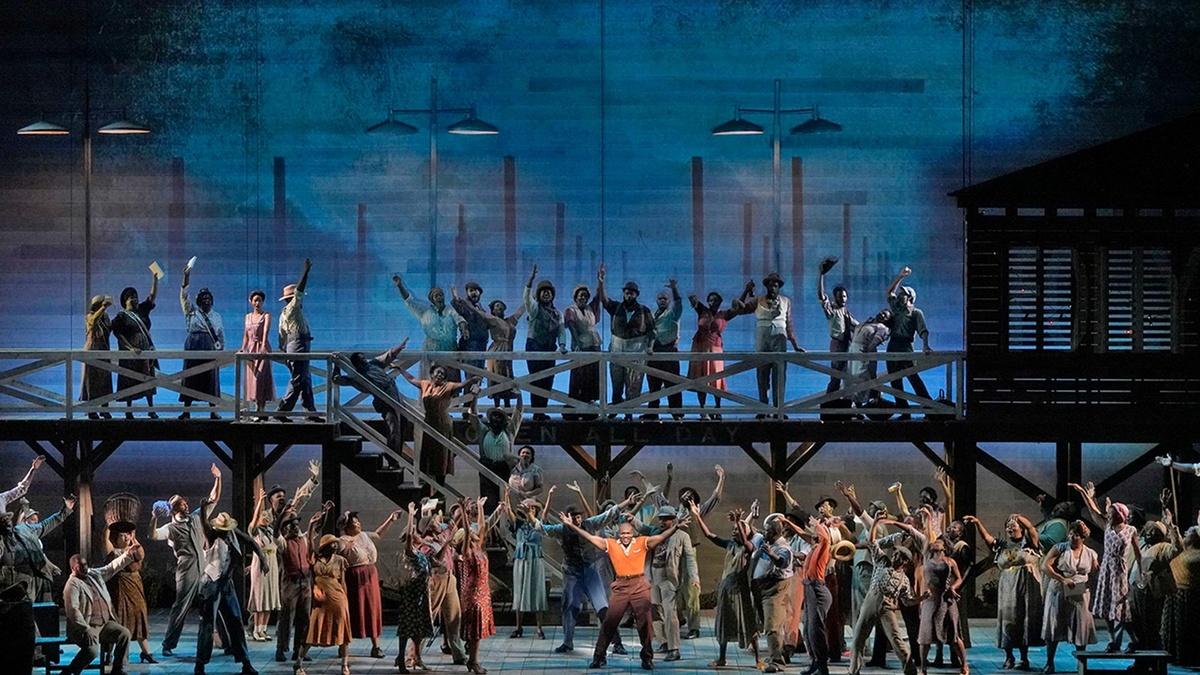 ---
When: Sept. 5 at 12 p.m. Eastern
Where: Online at MoMA PS1 and the Boiler Room
MoMA PS1 is taking its popular Warm Up series online this year with an eight-hour set, which will be streamed this Labor Day weekend. Presented in partnership with the music streaming platform Boiler Room, the program features Papi Juice, Barbie Bertisch, Sie7etr3 and more, broadcasted from the MoMA PS1 courtyard.
Those in New York City can also catch the stream live at a handful of venues, including the Rockaway Hotel, Queens Botanical Garden, Elsewhere and Ode to Babel. A complete list of spaces participating can be found here.
The event benefits NYC Nightlife United Fund, which raises money in support of local venues.
Top Image: Cast of "Center Stage."