The film "In This Life" works through the five stages of grief, casting five different choreographers to voice each emotion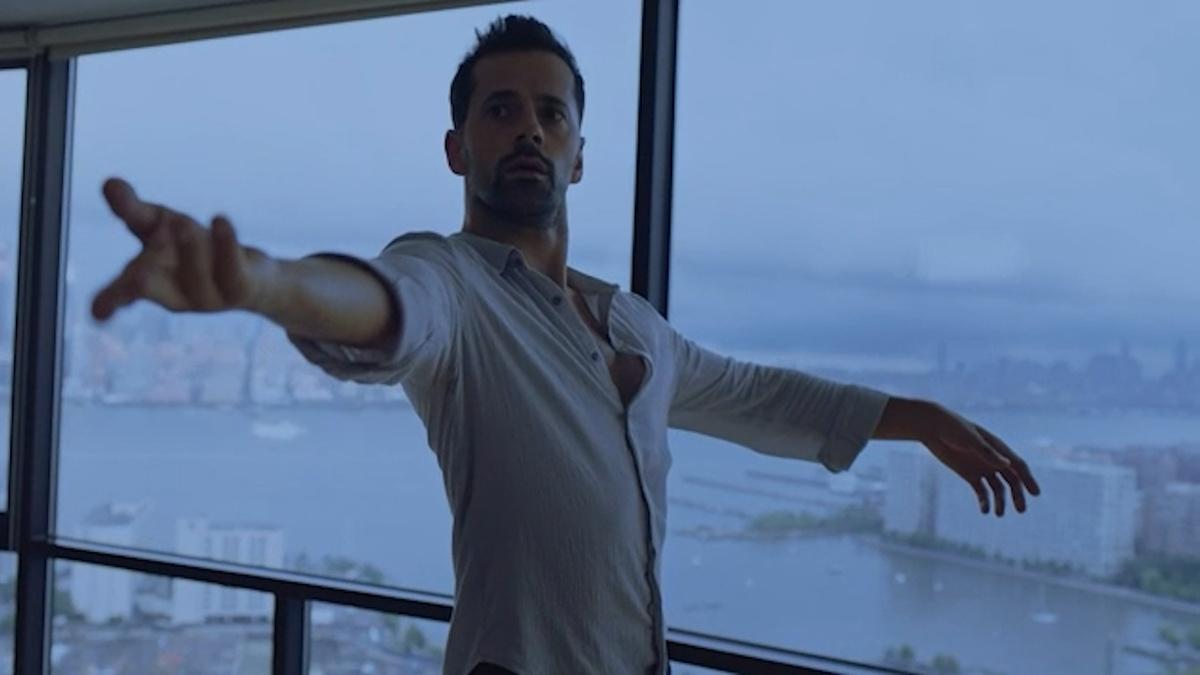 When dancer Robbie Fairchild and filmmaker Bat-Sheva Guez sought out to make an 11-minute film exploring grief, the current global pandemic was far off. Fairchild had just finished a leg of the musical "An American in Paris," a role he accepted while still dancing at New York City Ballet before retiring in 2017.
"I was going through a whole lot of changes personally and professionally at the time, following my dream and following my heart," Fairchild told ALL ARTS in May. "And even when it's your decision to move on and grow, there is this shedding of skin."
The film — titled "In This Life" and now streaming on ALL ARTS — allowed Fairchild to explore this period and the necessity of grieving that came along with it.
"I had gone through a lot of that, but filming was really cathartic for me," Fairchild said. "It felt right. It felt like I didn't have to tap too far deep down to access what I needed to. And that's always really fun — when you just feel like you're in the water, you're in the river."
Moving through the five stages of grief, the film calls upon five different choreographers to interpret the phases: "Denial," "Anger," "Bargaining," "Depression" and "Acceptance." Varied in style and tone, the choreographic language of each section translates into a nuanced depiction of emotion.
Fairchild, whose "bread and butter" at New York City Ballet was new work, drew up a list of choreographers, composing a team made up of Warren Craft, James Alsop, Andrea Miller and Christopher Wheeldon (with Fairchild choreographing the final stage, "Acceptance.")
"We talked about which phase each would be most best suited for," Guez said. "Each phase of grief has a very different style to it."
The film opens with Fairchild alone in a sparse and expansive apartment, lined with large windows overlooking a city skyline. As he begins to pull away from the glass, jittering movement choreographed by tap dancer Warren Craft pulsates through the scene, propelling Fairchild through the first phase: "Denial."
The dance transitions with a close-up of Fairchild, drenched in a warm red tone that contrasts the blue, light-filled apartment. Here, the dancer pulls at his face, setting it into an uncanny smile, a scowl and finally an angry gaze that he aligns with his fingers. The viewer is placed directly in front of Fairchild, almost like a mirror, creating an intensity that is returned to throughout the short piece.
Guez explained that these interstitials, in which Fairchild is putting on a mask, help to cohere the tonally different sections of the film.
"A big part of directing it was trying to figure out how to make it cohesive," Guez said. "And how to — while each dance had a different kind of color palette and a different style of dance and different choreographer — still see throughlines, connected threads throughout."
"Anger" follows, marked by relentless energy. The phase was choreographed by James Alsop, who brought with her a suggestion of filming location.
"With 'Anger,' we kept going back and forth like, 'Where should we set this?'" Guez recalled. "Then when we brought James Alsop on, she was like, 'You know, when I think of rage, I think of church; I think of religion.' And it was just like, 'Whoa.' And that added a whole other level to it."
The church creates a cinematic backdrop as Fairchild dances down the center aisle, his fellow-churchgoers snapping their heads toward him. In a sustained moment of rage, he pushes them away, resisting the extended hands and embraces offered by the other dancers.
Filming inside of the church happened quickly, the duo said, explaining that some of the dancers were on Broadway and had to get back to shows. Adding to the dynamic quality of the movement, the sweeping aesthetics of the scene were aided by the actual architecture of the structure.
"We tried to shoot a certain way so that we could see a ray of light," Guez said. "And we didn't realize the architecture of the church just was there to help us. And it was designed so that there would be this gorgeous sunbeam, like from God above, through the church."
Andrea Miller choreographed the next phase, "Bargaining." A counter to the closed interior of "Anger," Miller's section is set at her family's ocean property in Connecticut, casting the dance in a cold, rock-bottomed body of water. The ocean compliments the push-and-pull emotion of the phase as Fairchild swims on the razor's edge of drowning and floating.
Guez described directing this segment as her "standing in the water, holding the monitor, just shouting at the top of my lungs."
"That was a really fun day," the filmmaker said. "It was hard, and we were fighting against the elements in a way that was really fun and cathartic. I remember I came home that day covered in mud and blood."
Despite the elemental trials, the scene comes off as peaceful and redemptive — a sharp contrast to the clingy pas de deux that follows.
Choreographed by Christopher Wheeldon, "Depression" sees Fairchild battling with the physical weight of his emotions. Retreating into a restaurant bathroom during a date, he is overcome with grief as dancer Martha Nichols raises her hands across his body like a dark shadow.
To create the effect, Guez and the team covered the dancer in clay, transforming her into a monster. Fairchild and Guez recalled the extent to which Nichols became the shadow creature — stating that at one point the director went into the bathroom, where she was shocked by the dancer's embodiment of the creature.
"She was just sitting in there, waiting in her dressing room on the phone," Guez recalled. "And she looked up at me with complete shadow monster face, and I was like, 'Oh my gosh, you scared the crap out of me.' She was just so good at being that creature." ("Truly," Fairchild added.)
The final phase of the film, "Acceptance," was choreographed by Fairchild himself, and features the dancer peeling back layers of scrim as if it were his own skin. Projected onto the thin pieces of fabric are memories from the first stage of the film.
"Oftentimes when people experience a really profound sense of grief, it kind of splits their life into a before and after, where the person you were before kind of dies," Guez said. "And you have to grieve the loss of the person you were before this major change, and the life you thought you were going to have, and the future you thought you were going to have."
She continued: "And it is like a shedding of skin. It's partly what's the visual motivation for the last phase, where he's pulling back the layers of fabric to reveal different parts of himself, essentially."
Fairchild added that the small interstitial sections between the scenes, when he is physically manipulating his face into a mask, echo the discomfort of this shedding process.
"I kind of look at it like: 'I want that old skin back on,'" he said. "It definitely feels like not content with the new skin."
When the film first premiered in 2019 at the 47th annual Dance on Film Festival at Lincoln Center's Walter Reade Theater, Guez and Fairchild received positive responses from those who watched. In emails, viewers described the experience of screening the film much how the creators described making it: cathartic.
"It's hard when you do a film about grief," Guez said, noting that the subject can turn viewers off. "So we wanted to make sure that it was something that would be enjoyable to watch and beautiful and cathartic and true at the same time. And that was our goal, essentially. And so I think for some of our viewers, we achieved that."
Over a year later, as the film finds new audiences, the world has also shifted.
"It's an interesting time to be releasing this film because the whole world is collectively grieving," Guez said. "Everyone's experience of this pandemic is different and yet the same. The fear and the grief and the loss is so profound and universal."
Fairchild added that he hopes the film reaches those in the community who are feeling alone or scared during this time of continued self-isolation.
"Everyone's stuck at home, and sometimes your home life isn't safe," he said of those, especially in the gay community, who may be struggling with "shedding their own skin" in an unsafe environment. "I just can't stop thinking about those people, who if they had been given the chance to be in a different place on their own, who would they become and what's holding them back because they're stuck in an unhealthy environment."
He concluded that he hopes the film "reaches people who need to know that they're not alone."
Top Image: Robbie Fairchild and Martha Nichols in the film "In This Life." Photo: Giacomo Belletti.