On March 13, Yo-Yo Ma took to Twitter with a simple goal: to share music that gives him comfort.
With no ornamentation or accompaniment, the musician performed a stirring rendition of Antonín Dvořák's "Going Home," marking the first entry into the series titled #SongsOfComfort. Since then, Ma has continued to use his cello to soothe through music.
In these days of anxiety, I wanted to find a way to continue to share some of the music that gives me comfort. The first of my #SongsOfComfort: Dvořák – "Going Home"

Stay safe. pic.twitter.com/S28w6OlXiZ

— Yo-Yo Ma (@YoYo_Ma) March 13, 2020
The entries, posted on Twitter, often include short captions that serve as intentions of sorts. On March 16, the "Sarabande" from Bach's Cello Suite No. 3 went out to health care works on the frontlines. "Your ability to balance human connection and scientific truth in service of us all gives me hope," he wrote.
Other posts are light and endearing, like his late-March shoutout to Mr. Rogers. "Years ago, I visited my friend [Mr. Rogers] to play this song," he said, inviting viewers to sing along. "This is for the kids and their grownups who are at home together."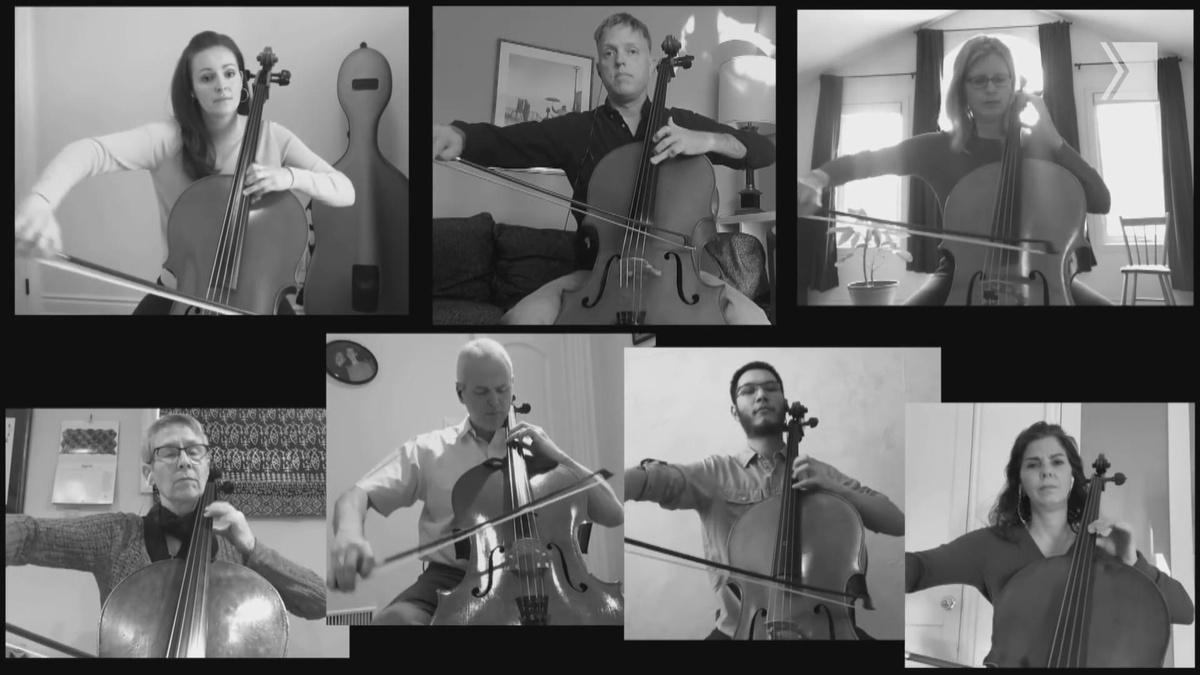 Using Ma's hashtag, people around the world have also posted their own interpretations of comforting music — including a violist in the Chicago Symphony who performed in her front lawn and a surgeon from Columbia University who hosted a healing concert.
Expanding his concept to collaborations, Ma joined celebrated musician Angelique Kidjo to record a distanced duet of the singer's "Blewu," which is based on a traditional Ewe song.
"I'm grateful not only for music's comfort, but for its connections," Ma said in a post proceeding the collaboration. "I heard my friend Angélique Kidjo sing 'Blewu' — a dirge for the dead and an anthem of thanks — almost two years ago, and it's never left me. This is for those we have lost and for those who risk their lives so we don't lose more."
The cellist is known for providing music in times when words seem to fail. On Sunday, he did just that as part of Lincoln Center's newly inaugurated series "Memorial For Us All," established to pay homage to lives lost as a result of the COVID-19 pandemic. Dressed in a coat and tie, Ma presented works from Albinoni, Fauré, Bach, Schumann and more, while a list of those memorialized by the tribute shared the screen.
Just three days earlier, the musician posted a performance of Albinoni's Adagio in G Minor, accompanied by the simple caption: "For those grieving."
While the dangers of the coronavirus make it difficult to be comforted in each other's presence, the regular clip of Ma's contributions in the form of #SongsOfComfort offers a glimmer into how we can use music to remain connected to each other.
Top Image: Yo-Yo Ma, who performed as part of Lincoln Center's "Memorial For Us All." Photo: Jason Bell.