Kamau Ware, Rob Fields and Brett Banks will stream a live conversation about celebrating and preserving Black spaces
As host of the ALL ARTS digital series "On Display," Stephanie Johnson-Cunningham explores how museums and cultural institutions are tackling the pressing social issues of our time. In the most recent episode, titled "Black Spaces," Johnson-Cunningham met with Rob Fields, president and executive director of Weeksville Heritage Center, and Kamau Ware, artist, historian and founder of Black Gotham Experience. Together, they discussed the importance of amplifying the redacted narratives — both physical and emotional — of the African American diaspora in New York City.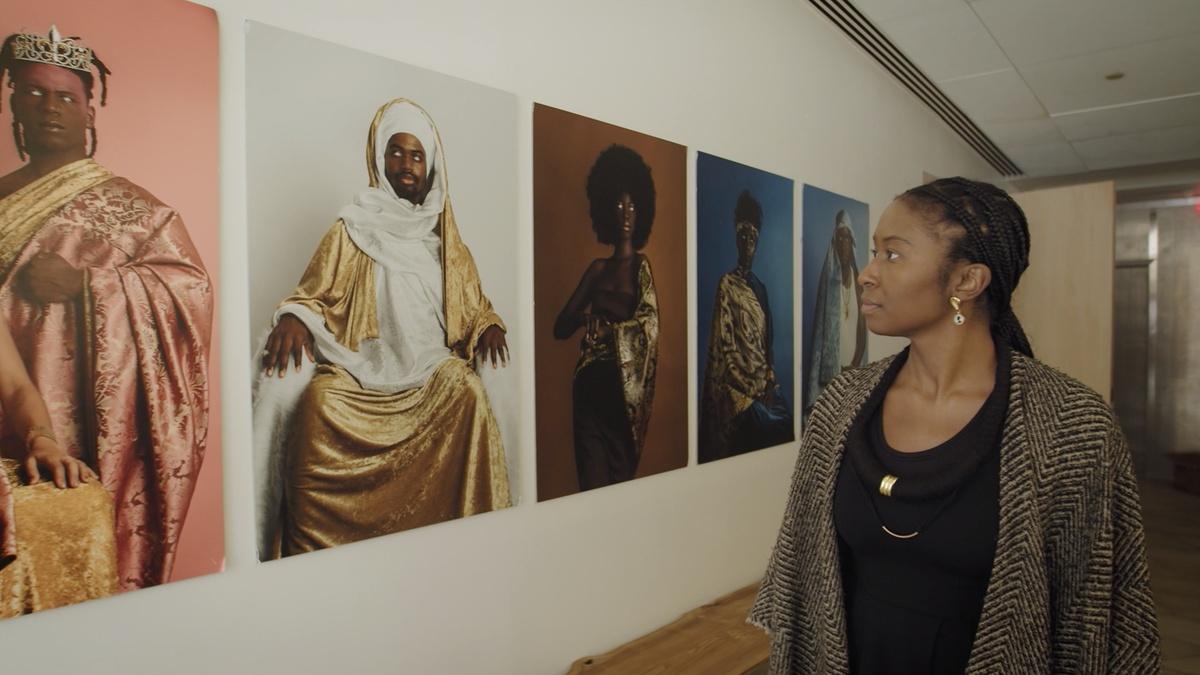 On May 21, Fields and Ware will lead a live conversation on the Black Gotham Experience Instagram to further the dialogue touched on in the "On Display" episode. As arts and culture audiences turn their attention to the digital world, the talk will highlight what Weeksville Heritage Center and Black Gotham Experience do in physical spaces to reconstruct and preserve the narratives of Black Americans. Brett Banks, whose recent and powerful work can be seen in the "On Display" episode, will also join the conversation to connect the messages in his artwork to the topic of retaining and reclaiming space.
"You can't take Black people out of the American story and have anything left," Ware said in 2019 from his South Street Seaport district storefront during the taping of "On Display." He had just wrapped up a tour of downtown Manhattan — a regular offering presented through Black Gotham Experience. Winding through the streets of the Financial District, Ware's guided walks highlight the contributions and sometimes little-known history of Black people in the beginning of what would soon be the sprawling city we know today. Without access to the physical tour, Ware is finding new ways to digitally connect with the community by opening the conversation to an online audience.
Before the COVID-19 pandemic hit, Black Gotham Experience would host Nerdy Thursdays, a "contemporary spin on the early Harlem Renaissance salons but downtown," where community members could come together to discuss Black masculinity, entrepreneurship, travel, cinema, education and more. Ware's storefront serves as a multidimensional space for artists, historical research and resources for the larger community.
Just a short subway ride away into Brooklyn, Weeksville Heritage Center preserves a "space where Black people could just live their lives to the fullest and in search of the American dream, just like other Americans." Tucked between modern apartments and regular borough life, Weeksville's grounds include the original houses from the mid-19th century on the land that James Weeks and a group of Black investors purchased. The campus is also home to a new cultural center building that hosts art exhibits, installations and collaborations with other local institutions.
"So much of what we tend to learn about Black history is sort of a catalog of overcoming wrongs that have been done to Black people in this country," Fields said, discussing the importance of the preservation of Weeksville Heritage Center, which is home to nearly 200 years of collective memory. "Weeksville is the flip side of that — it is a story of self-sufficiency and self-determination and entrepreneurship."
Taken together, Weeksville Heritage Center and Black Gotham Experience weaves threads of the past with the present to present a continuous narrative. And while the physical locations may be closed and tours are on pause, online conversations continue the expansion of this legacy of community building, creating a digital space that allows for building memory, emotion and solidarity with the community.
"A historic site is a site of memory, that memory helps build identity, identify builds community," Fields said. "Community and institution building is really a form of resistance."
Join Ware, Fields and Banks in conversation on Instagram Live Thursday, May 21, at 6 p.m. on @BlackGotham.
Top Image: Photo credits: Ashley Ferrera (Ware), Kolin Mendez (Fields), Emmai Alaquiva (Banks).