Ahead of the ALL ARTS dance marathon, we've gathered three dance films you can stream now.
'Constellation'
Alonzo King's LINES Ballet, based in San Francisco, has been a personal favorite of mine since I discovered them in Dance Magazine in middle school — which is why I was so excited to find this 2013 performance of "Constellation" from the Théâtre National de Chaillot in Paris.
Inspired by astronomy, the evening-length work is worth a watch just for the lighting design by Jim Campbell. Dozens of evenly spaced orbs make up the backdrop, and they change colors in undulating patterns. Some lightbulbs hang from the ceiling, and the dancers interact with them, holding them in the arches of their feet or moving with them in their hands.
Mezzo-soprano Maya Lahyani joins the dancers on stage, singing music by Handel and Strauss, among others. At first, individual dancers move across the stage in distant dialogue with one another. My favorite part of the piece is when this individuality is broken by a duet between Yujin Kim and Robb Beresford, who dance to the sorrowful Italian aria "Sposa son disprezzata" about a wife who is scorned by her cheating husband and doesn't know why. Kim nudges Beresford into dancing with her, and they swirl and dive around each other, alternating between tension and softness.
I've never seen a duet with such disparate points of connection — sometimes with a hand on a neck or a hipbone and other times with straight arms, as if they're trying to stay as far apart as possible. The languid movements contrast with broken body lines, which pair with these hollow intimacies and speak to our tenuous place in the cosmos.
[Streams until June 28. Airs on broadcast May 30 at 10 a.m.]
'Planites'
The dance piece "Planites" by Greek choreographer Patricia Apergi is a reaction to the Syrian War and the ensuing refugee crisis. The metaphor of moving planets describes the transitory immigration experience. In frantic, sometimes folkloric phrases, Apergi imagines the fear, vulnerability and determination of these travelers, and she choreographs their desperate attempts to free themselves from physical limitations.
It's hard not to watch this piece without empathizing with the deeply human struggle of migration. The intense physicality reminds me of the constant threat of violence that refugees face, and yet there are moments of deep connection — of creating community and tenderness despite the difficult circumstances.
Her company does movement research in absorbing other cultures' physical and musical codes, which she says reflect the collective mind and body of urban life, describing it as "the place of wandering, searching for the best tomorrow, blending in, the stranger."
[Streams until June 28. Airs on broadcast May 30 at 1:45 p.m.]
'Clowns'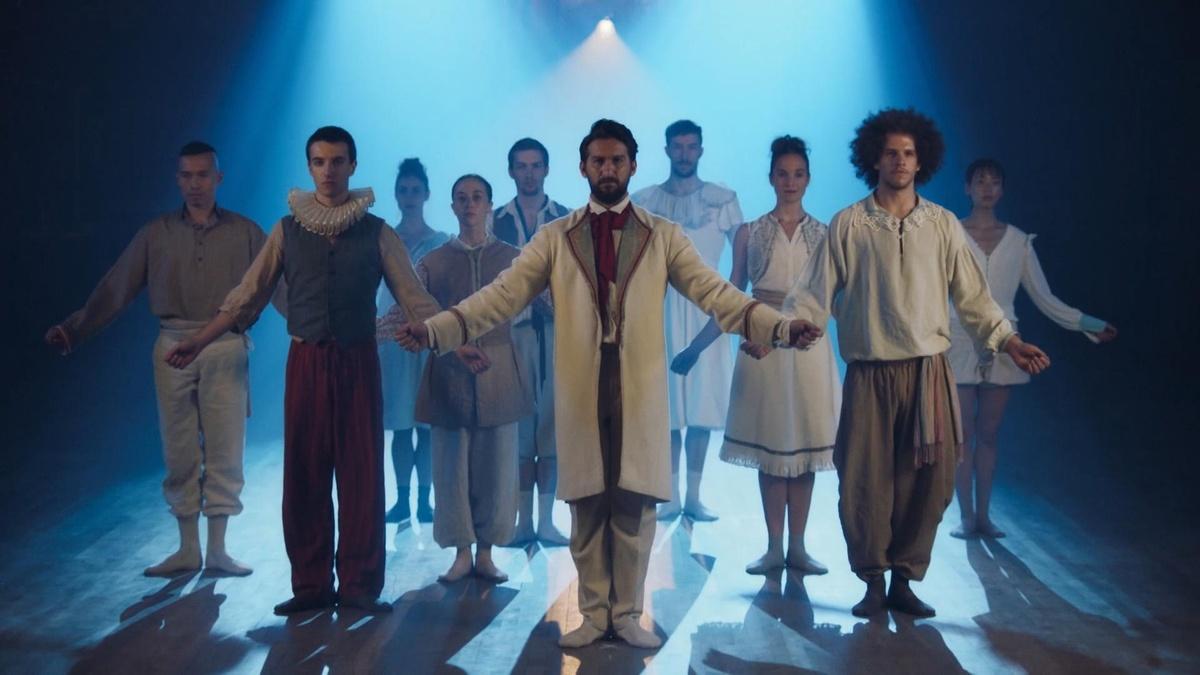 New Yorkers may remember Israeli choreographer Hofesh Shechter from Bartlett Sher's 2016 revival of "Fiddler on the Roof." He was nominated for a Tony Award for the choreography in that show, which, in my opinion, was very well-deserved. I was absolutely entranced by his use of gesture, how it seemed to capture the 100-year-old setting while making it feel absolutely modern. And his work continues to speak to both primal and contemporary humanity in "Clowns," a dance film commissioned by the BBC in 2018.
A base drum serves as the heartbeat of this darkly energetic dance, and the dancers return to it throughout — often in nearly balletic balancés keeping the triplet time. From there, Shechter gives us a lesson in building tension through movement. He adds hand fluttering that recalls Fosse's jazz hands but are more frenetic, uncontrolled. There are moments of pause that explode into movement. He combines grounded elements of West African dance with shapes from European folk movements, with jumps on the downbeat and arms in a "U" shape. All of a sudden, the dancers mime violence: shooting with two-finger guns, or slashing each other's throats. But then it's back to the baseline of the simple balancés.
All of this seems to convey the ancient humanness of violence, the banality of evil. The dancers appear propelled to violence without any emotion or remorse. Clowns are scary because they're unreadable — they're hidden, or their emotional response doesn't fit the action. These dancers have flat affect as their movement reaches crescendo. Shechter emphasizes this in his use of the camera. He creates tight shots of faces or body parts, with surrounding areas blurred. By fading to black in key moments, he creates narrative scenes that literally and figuratively leaves us in the dark, left to our own imaginations. I'm reminded, yet again, of the vast, powerful possibilities of creating dance on film.
[Streams until April 30, 2022. Airs on broadcast at 9 p.m. on May 30.]