On Monday, March 30, I've scheduled a marathon of pop art documentaries featuring Yayoi Kusama, Keith Haring and Jean-Michel Basquiat. These three visionary painters worked in New York at various points between the '50s and the '80s, and they invented new visual languages to comment on the simultaneous poverty and materialism they saw driving culture. Despite their practically mythic status, to some extent they remained art world outsiders as they struggled with balancing authenticity and the demands of the commercial art market. In our age of hyper-gentrification, it's easy to romanticize the bohemian poverty that was so fertile to this art scene — it deserves more nuance than that. But it makes me walk around lower Manhattan with a new openness and appreciation as I imagine all the artistic brilliance that thrived there.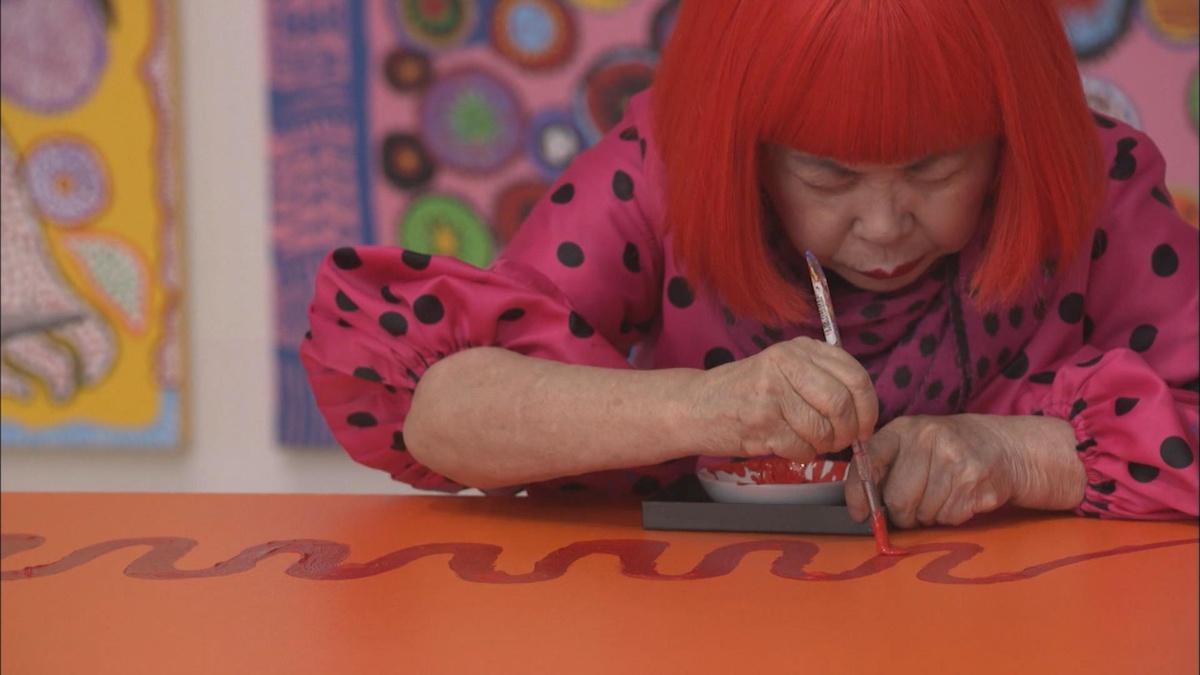 This Japanese documentary tells the story of "polka dot princess" Yayoi Kusama. She has experienced a resurgence of popularity for her Instagrammable installations of enormous pumpkins, mirrored infinity rooms and, of course, polka dots. But this prolific artist has been making work for over 50 years. She moved to New York in 1958 and eventually became known for her paintings of intricate nets. Turning 91 this year, she spends nearly every day painting. In the documentary, she says she "stakes her life" when she paints and opens up about her mental illness. She reads a poem about her series "My Immortal Soul," her yearning for life, her struggle to face death and how art helps her work through these existential questions.
[Airs on broadcast March 30 at 8:30 p.m. and streams until Dec. 31, 2020.]
"Drawing the Line: A Portrait of Keith Haring"
This 1990 archival documentary charts the meteoric rise of graffiti artist Keith Haring, whose symbolic, almost archetypal figures have become a worldwide phenomenon. After getting arrested for his chalk drawings on subway panels, he eventually entered the upper echelons of the art world through the pure force of popularity — which not many artists manage to achieve. And yet, his commitment to social justice and his merchandising of his prints made him unpalatable to some old-school art critics. Controversially, this film doesn't address his homosexuality or that his death in 1990 was caused by AIDS. I interpret this glaring omission as representative of the time when this documentary was made and the importance of his work in speaking the unspeakable.
[Premieres on broadcast and streams starting March 30 at 9 p.m.]
"Basquiat: American Masters"
Painter Jean-Michel Basquiat blended anatomical drawings, poetry and symbols to comment on racism and capitalism. He moved in similar circles as Keith Haring in the graffitti scene of the early '80s and became an art industry darling, which, like Keith, he felt conflicted about. He was able to pass through the white gatekeepers of the art market, yet he wasn't wholly accepted because many in the industry couldn't handle his frank commentary on racial injustice. My favorite parts of the documentary are the stories from his friends about his early days. A friend leads us around the Metropolitan Museum of Art, showing us the Caravaggio and Pollock paintings that Basquiat loved. And another one tells the story of how Basquiat sold two small paintings to Andy Warhol in a cafe for a few dollars when he was an unknown artist and before Warhol became one of his biggest supporters.
[Premieres on broadcast on March 30th at 9:30 p.m. The program is not available to stream.]
Top Image: Still from "Yayoi Kusama: My Immortal Soul."