If there weren't a World Theater Day, audiences would have certainly demanded its existence by now. ALL ARTS and THIRTEEN have the cure if you're fidgeting on your sofa, craving show-stopping songs or the cutting dialogue of a sharply-crafted play right about now. Five episodes of the "Best of Broadway" collection from Great Performances are newly streaming as of March 27. All but one are live performances, and two were recorded in London (hat tip, World Theatre).
Off-Broadway productions are the heart of the Theater Close-Up series, streaming exclusively for public television viewers in the New York City metropolitan region.
[Want even more theater? Check out our marathon of Broadway treasures, all streaming now.]
Theater Close-Up
"School Girls; Or, the African Mean Girls Play"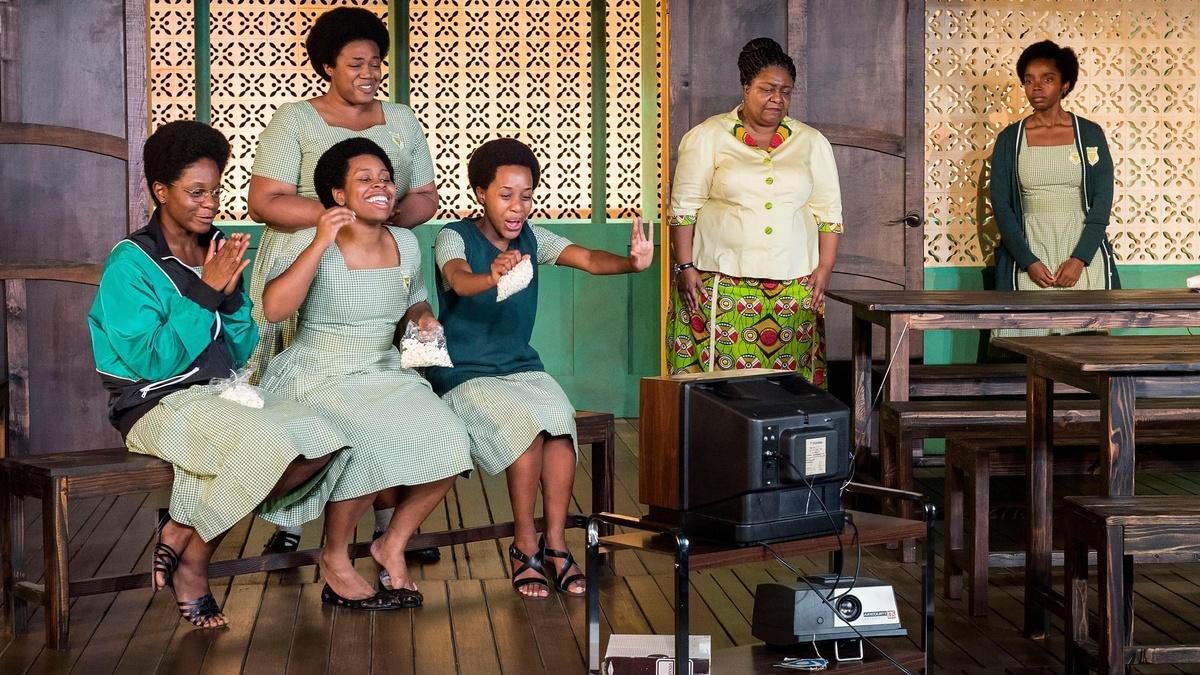 Trending now is Jocelyn Bioh's "School Girls; Or, the African Mean Girls Play," set in Ghana. This 2018 Lortel Award-winner for Best Play is directed by Tony Award-winner Rebecca Taichman ("Indecent") and produced off-Broadway by the MCC Theater.
"Best of Broadway" theater shows
Watch these theater shows and more Great Performances online anywhere you watch PBS programming, including on the Great Performances site and the ALL ARTS and THIRTEEN Explore apps wherever you stream.
This backstage comedy from 1942 stars Tony-winner Kevin Kline as a hilariously self-obsessed actor named Garry Essendine. Juggling his considerable talent, ego and libido, Garry — the theater's favorite leading man — finds himself caught between fawning ingenues, crazed playwrights, secret trysts and unexpected twists. The spectacular cast of this Tony Award-winning 2017 production also includes Kate Burton ("Scandal," "Grey's Anatomy"), Kristine Nielsen ("Vanya and Sonia and Masha and Spike") and Cobie Smulders ("How I Met Your Mother") in her Broadway debut.
In November 2019, for the first time in over four decades, Great Performances presented a Public Theater production recorded live at Free Shakespeare in the Park. After a critically acclaimed run at the outdoor Delacorte Theater in New York City's Central Park, "Much Ado About Nothing" is a bold interpretation of Shakespeare's comedic masterpiece featuring Danielle Brooks.
Brooks ("Orange Is the New Black," Broadway's "The Color Purple") and Grantham Coleman ("Buzzer," "The Americans") star as the sparring lovers Beatrice and Benedick. Tony Award-winner Kenny Leon ("American Son," "A Raisin in the Sun") directs, with choreography by Tony Award-nominee Camille A. Brown ("Choir Boy").
Beloved by generations of audiences worldwide, "The Sound of Music" tells the inspiring true story of the von Trapp Family Singers and their escape from Austria during the rise of Nazism. Rodgers and Hammerstein's 1959 hit stage musical garnered five Tony Awards, including Best Musical, and the blockbuster 1965 movie adaptation won five Oscars, including Best Picture. Great Performances presents the 2015 live U.K. broadcast version, starring Kara Tointon as Maria, Julian Ovenden as Captain von Trapp, Katherine Kelley as Baroness Schraeder, Alexander Armstrong as Max, and Maria Friedman as the Mother Abbess.
Award-winning stage and screen actor Alfred Molina reprises his critically acclaimed performance as the American abstract expressionist painter Mark Rothko in playwright John Logan's Tony Award-winning 2010 play, "Red." Under the watchful gaze of his young assistant — and the growing competitive presence of a new generation of artists — Rothko takes on his greatest career challenge yet: to create a definitive series of paintings for the Philip Johnson-designed Four Seasons restaurant in architect Mies van der Rohe's iconic Seagram Building. Molina is joined by rising star Alfred Enoch ("How to Get Away With Murder") as Rothko's assistant, Ken. Original Broadway director Michael Grandage returns to direct this 2018 West End revival.
Watch online here.
"Harold Prince: The Director's Life"
Take a peek into the legendary career of Harold Prince, the pioneering Broadway producer and director and winner of 21 Tony Awards with this retrospective celebration featuring Stephen Sondheim, Andrew Lloyd Webber, Mandy Patinkin, John Kander, Susan Stroman, and Angela Lansbury. Prince's peerless résumé includes such legendary shows as "West Side Story," "Fiddler on the Roof," "Cabaret," "Company," "Follies," "Sweeney Todd," "Evita," "The Phantom of the Opera" and many more.
Watch online here.