When Dr. Indira Etwaroo began curating the New Windows Festival at the Billie Holiday Theatre last year, the executive director knew the program needed to pierce through existing echo chambers. She envisioned a 2019-2020 lineup that could double as a launchpad for multi-cultural conversations at the historically Black playhouse, which she describes as having operated in a cultural silo.
"New Windows was an opportunity for a Black-led institution to take a leadership role in an interracial dialog," Etwaroo said. "I thought, how could we, as the theater home to the largest community of people of African descent [in the country], really catalyze a conversation that embraced the intersectionality and the complexity of our community?"
That question eventually led the theater to make an unprecedented announcement in September. For the first time in its 47-year history, the Central Brooklyn venue would host a playwright of non-African descent. The chosen story, "Reparations" by James Sheldon, tracks the aftermath of a dalliance between a white book editor and an aspiring Black author, who must decide whether to leverage his significant traumas for material gain.
"I was really taken aback by the complexity of the narrative," Etwaroo said, when asked why she chose the work, which is directed by Michele Shay and stars Lisa Arrindell, Kamal Bolden, Alexandra Neil and Gys de Villiers. "I was really moved by seeing four people from distinct social spaces represented on the stage, and I was also very moved that the writer was tackling an issue that's so relevant in this #MeToo era from a new vantage point."
Though Etwaroo had already begun thinking about inviting new voices into the theatre, the decision to provide a platform for Sheldon's piece didn't come quick or easy. It would require the playhouse to open its doors to a white author while writers of color remain woefully underrepresented at so-called mainstream venues. She worried that the decision would generate concerned emails from supporters (there were some) or that it would taint the rich legacy of the playhouse. But, after attending a reading of Sheldon's play, she continued to stew over its themes.
"I thought, oh, I don't know if I could do this story," Etwaroo recalls. "And then my second impulse was, why not? Why can't you do this story?"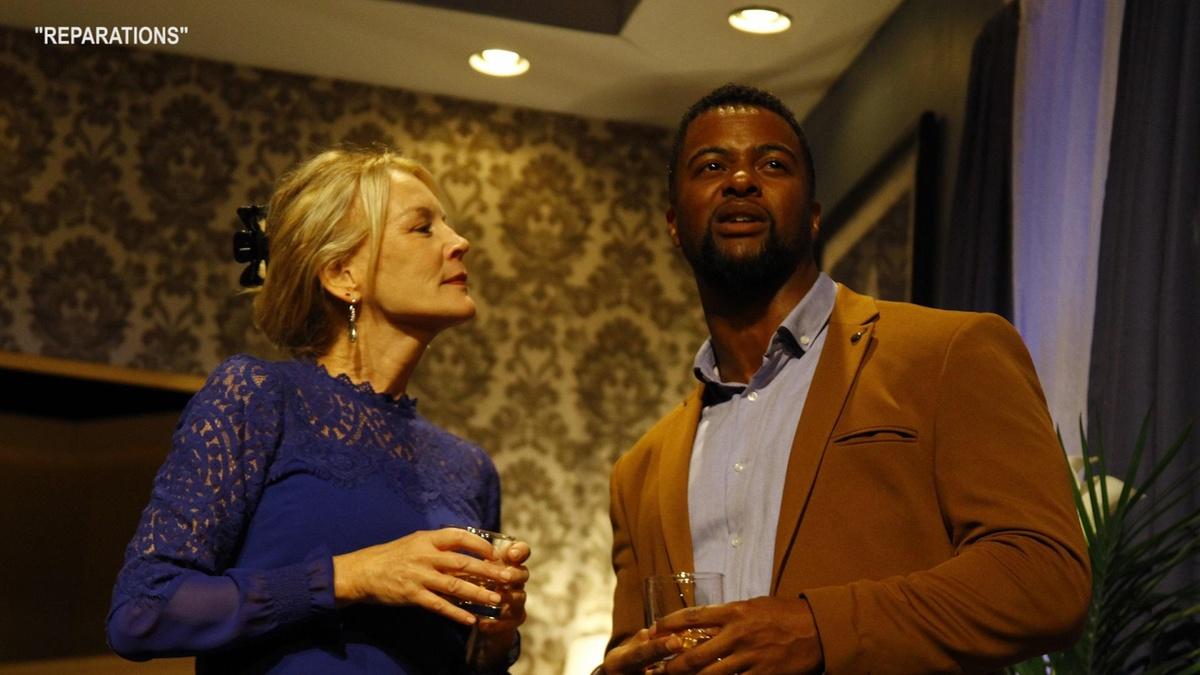 It occurred to her that staging the production would rejigger power dynamics within the theater itself. A work by a white playwright at the Billie Holiday Theatre would mean the selected writer would have to cater to Black expectations and center Black consumers — a rarity in the theater and broader entertainment industry.
"What does it mean when a person who has historically held power — a white male — is produced by a Black theater, a Black female leader and partners with a Black female director?," she said. "The whole power dynamic shifts, and he has to present work that is relevant to a Black audience."
Etwaroo's desire for Black institutions to lead conversations about diversity allayed her other concerns. Museums, playhouses and other arts and cultural institutions collect accolades for their efforts to diversify, while Black institutions that have long provided a home for artists of color seemingly remain in the background.
"It's an interesting conundrum that predominantly white-led institutions can curate diversity, and in some ways they're leading the interracial conversation, when people of African-descent have been leading that conversation on the ground for 400 years, in our slave testimonials to the abolitionist movement to the great migration through to the Civil Rights movement, all the way to Black Lives Matter," she said. "We have led those revolutionary conversations around race, and yet in the field of arts and culture, the interracial conversation is led by white institutions that are now diversifying, and Black institutions are still in a silo of talking to ourselves."
Although she remained committed to rectifying that perception, Etwaroo remembers feeling uneasy during the days leading up to the first few previews, which took place earlier this month. "I was having an internal conversation with myself, and I wasn't sure this was the right move to make," she recalled. "But my gut voice was saying, you know, this is a big moment in our nation's history, and we need to be very bold and very daring."
It appears, for the most part, to have paid off. Now almost through its run, "Reparations" has received mostly favorable reviews. And the backlash she initially feared didn't materialize. During previews, the audience began snapping their fingers and echoing characters' lines — all tell-tale signs of a show well done at The Billie Holiday Theatre.
"Before the lights even came up, the audience was on their feet with a standing ovation," she said.
As for Etwaroo?
"I actually went outside, and I cried."
"Reparations" runs through Nov. 24 at The Billie Holiday Theatre in Brooklyn. To learn more about the New Windows initiative and see upcoming productions, click here.
Top Image: Alexandra Neil and Kamal Bolden for "Reparations."