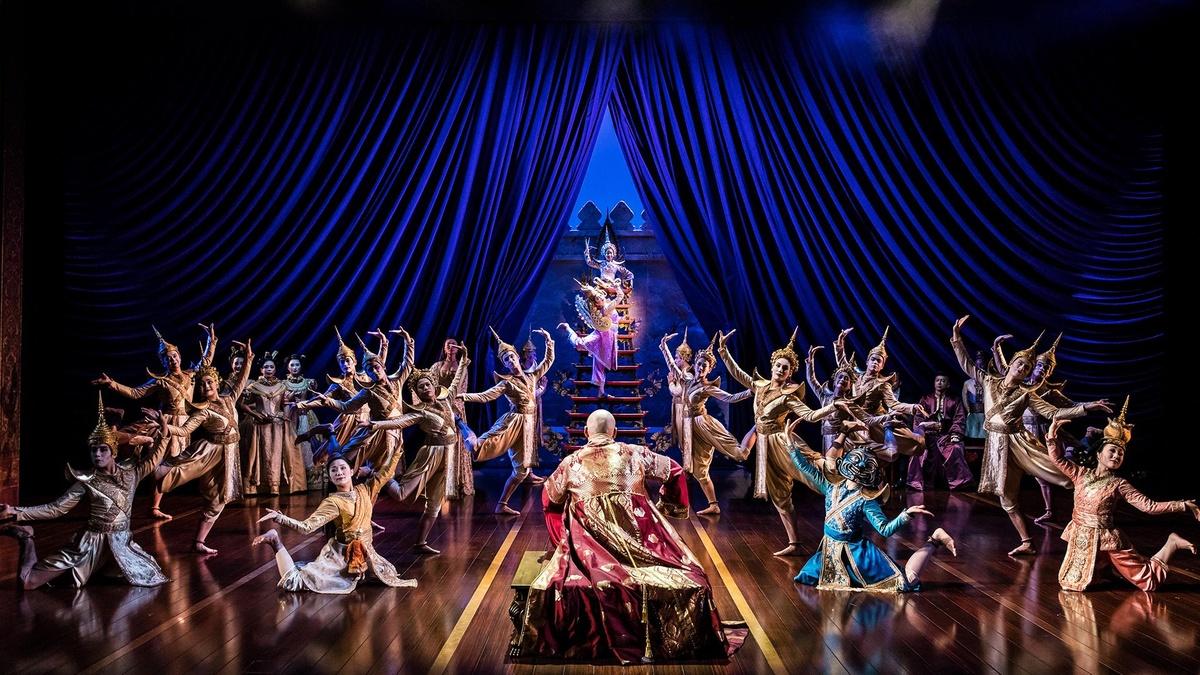 Set in 1860s Bangkok and based on a true story, Rodgers and Hammerstein's "The King and I" follows the relationship between the King of Siam and Anna Leonowens, a British schoolteacher the King brings to Siam to tutor his many wives and children. Lincoln Center Theater's Tony-winning revival starring Kelli O'Hara and Ken Watanabe, filmed during its 2018 run in London's West End, aired as part of Great Performances' "Broadway's Best" line-up and is now streaming.
Before you enjoy the beloved musical, check out this starry list of actresses who have played Anna Leonowens.
Gertrude Lawrence
Legendary British actress Gertrude Lawrence — friend, cast-mate and mischievous muse to the eternally witty Noël Coward — won a Tony Award as Anna Leonowens in the original 1951 Broadway production of "The King and I," starring Yul Brynner as the King. It was the first time Rodgers and Hammerstein wrote a musical for a star. While they were concerned about Lawrence's limited vocal range and reputation for "diva-like" behavior, one thing was indisputable: she had star quality. Sadly, the legendary actress died of liver cancer in Sept. 1952 at age 54, halfway through the show's original run. She was buried in the iconic ball gown she wore in the "Shall We Dance" number.
Fun Fact: Guess who took over as Anna during Gertrude Lawrence's month-long vacation in the summer of 1952? Celeste Holm, who originated the role of Ado Annie in another treasured Rodgers and Hammerstein musical, "Oklahoma!"
Angela Lansbury
Angela Lansbury lived-lived-LIVED in "Mame," baked the worst pies in London in "Sweeney Todd" and solved all crimes great and small in TV's "Murder, She Wrote." But did you know this legendary star of stage and screen played Anna Leonowens in the 1977 Broadway revival of "The King and I," starring opposite Yul Brynner? She took over the role for a month in 1978 while leading lady Constance Towers was on vacation — and scored a Drama Desk Award nomination. It's rare for an actor to receive a Drama Desk nod for such a short replacement stint, but as the glowing New York Times review revealed, Lansbury's performance was truly something wonderful!
"Miss Lansbury brings to the role her angelic good looks, her considerable ability as a dramatic actress and her English manner. … She is giving a magnetic star performance as a character who, far more than the King, carries the musical burden of the show. … Deservedly, she takes the final curtain call," raved the paper of record.
Barbara Cook
Whether she was dreaming of a white knight in "The Music Man" or swooning over vanilla ice cream in "She Loves Me," Broadway darling Barbara Cook knew how to enchant audiences. In 1960, the beloved soprano played Anna Leonowens in an acclaimed New York City Center revival of "The King and I," starring Farley Granger as the King. New York Times critic Brooks Atkinson declared Cook's performance the best of her career — and said the City Center revival was better than the original Broadway production. What made the City Center production such a hit? Cook said the chemistry between her and Granger was certainly a key ingredient.
"there was a wonderful sexual chemistry between the two of us — really sexy. There was never any stuff between us, but people have certain chemistry that they can use on stage, and man, we had it. … You know the scene when they do the waltz? That was hot," Cook recalled in an interview for the New York City Center blog.
Watch an interview with Barbara Cook on WNET's SundayArts series (now called NYC-ARTS) here.
Donna Murphy
Broadway superstar Donna Murphy won her second Tony Award as Anna in the 1996 revival of "The King and I," starring Lou Diamond Phillips. The celebrated actress, who recently wowed audiences as matchmaker extraordinaire Dolly Levi in the Tony-winning revival of "Hello, Dolly!," was initially on the fence when offered the role, but she had a change of heart when Ted Chapin, head of the Rodgers and Hammerstein Organization, gave her some enticing reading material: Margaret Landon's 1944 novel "Anna and the King of Siam," the source material for the musical, and "Siamese Harem Life." "As I read these books, I was so blown away by this woman and the risks she took. … She seemed to be fearless," Murphy said in a Playbill article.
Murphy is no stranger to public television audiences. American Playhouse captured her Tony-winning performance in Stephen Sondheim's "Passion" (1996); she was part of an all-star cast in "Sondheim! The Birthday Concert" (2010) on Great Performances; and she earned accolades as Jane Green in the PBS Civil War-era drama series "Mercy Street" (2016-17).
Watch Donna Murphy and "The King and I company" perform "Getting to Know You" in the 1996 Macy's Thanksgiving Day Parade here.
Kelli O'Hara
Kelli O'Hara won a Tony Award for her "ravishing" (Variety) portrayal of Anna Leonowens in Lincoln Center Theater's 2015 revival of "The King and I," starring Ken Watanabe. The "sumptuous" (The New York Times) production reunited her with director Bartlett Sher ("South Pacific," "The Light in the Piazza"), and its 2018 London transfer marked her West End debut. Incredibly, O'Hara had never seen a production of "The King and I" when she was cast in the Rodgers and Hammerstein classic that would earn her rave reviews and her first Tony. When she began the actor's work of "getting to know" the character of Anna, she was immediately impressed by her strength as a woman and as a teacher. "The impact a teacher can have on a child is one of the most important things in our life," she remarked in this BUILD series interview.
O'Hara, who was trained in classical voice and opera, has also appeared in many Great Performances at the Met broadcasts, including a 2015 production of "The Merry Widow," directed by Susan Stroman and a colorful 2018 production of "Così fan tutte" set in 1950s Coney Island.
Marin Mazzie
When Kelli O'Hara left the Lincoln Center Theater production of "The King and I" in 2016, three-time Tony nominee Marin Mazzie — who lit up the Broadway stage in such roles as Clara in "Passion," Mother in "Ragtime," Lilli Vanessi in "Kiss Me, Kate" and Helen "Don't speak!" Sinclair in "Bullets Over Broadway" — stepped in as Anna Leonowens for the final two months of the run, playing opposite Daniel Dae Kim as the King. The show marked the actress's return to Broadway since going public with her battle with ovarian cancer in 2015. "'The King and I' has been the most emotional and joyous I've ever felt onstage," she said in a Lincoln Center Theater blog interview, describing the marvelous Mrs. Leonowens as "the most mature of the great Rodgers and Hammerstein heroines."
Mazzie, who passed away in 2018, was featured on several Great Performances specials, including "Creating Ragtime" (1998), "My Favorite Broadway: The Leading Ladies" (1999), "My Favorite Broadway: The Love Songs" (2001) and "Sondheim! The Birthday Concert" (2010), as well as Stephen Sondheim's "Passion" (1996) on American Playhouse.
Watch Marin Mazzie and Daniel Dae Kim perform "Shall We Dance" here.
Rachel York
Throughout her career, Tony-winner Rachel York has put her colorful stamp on larger-than-life characters such as diva Dorothy Brock in "42nd Street," fur-obsessed villainess Cruella de Vil in "The 101 Dalmatians Musical" and ditsy-yet-determined showgirl Norma Cassidy in "Victor/Victoria," to name an impressive few. For many years, she wanted to play Anna Leonowens — one of Rodgers and Hammerstein's most iconic heroines — and she had a chance to fulfill that dream in a 2011/2012 production of "The King and I" at Pennsylvania's Walnut Street Theatre.
"You can't beat the music or the enduring allure of this show," York said in a Northeast Times article. As for Anna's allure, York remarked, "She was a feminist in her own right. She was very brave at a time when a woman and her young child going off to Siam alone was probably seen as something very foolish. But she was a very passionate and romantic woman."
York played another impassioned heroine — Lilli Vanessi — in the Tony-winning revival of "Kiss Me, Kate" that aired on Great Performances in 2003. Want to stream "42nd Street?" Click here!
Watch York and "The King and I" cast rehearse for a TV appearance on the 2011 6ABC Thanksgiving Day Parade here.
Rodgers and Hammerstein's "The King and I" is available to stream online and on the ALL ARTS app. PBS station members can view the entire Great Performances "Broadway's Best" line-up via Passport (contact your local PBS station for details).
Join the conversation on social media using the hashtags #GreatPerformancesPBS and #BroadwayOnPBS.
Top Image: Kelli O'Hara and Ken Watanabe in "The King and I." Photo: Matthew Murphy.