"Is Garth Brooks here?," songwriter Victoria Shaw said recently to a crowd gathered at Birdland Jazz Club. After a beat, satisfied that Brooks was not in the room, she quipped, "Okay, I wrote this song by myself."
Shaw, a veteran of the Nashville songwriting scene, went on to share the story behind the 1992 classic "The River," which she co-wrote with Brooks, laying the musical pathway for what would result in the Brooks's ninth number one hit on the country music charts. The tale, along with many others, came during a recent taping of the musician's new series with ALL ARTS, "Songwriters Under the Covers with Victoria Shaw."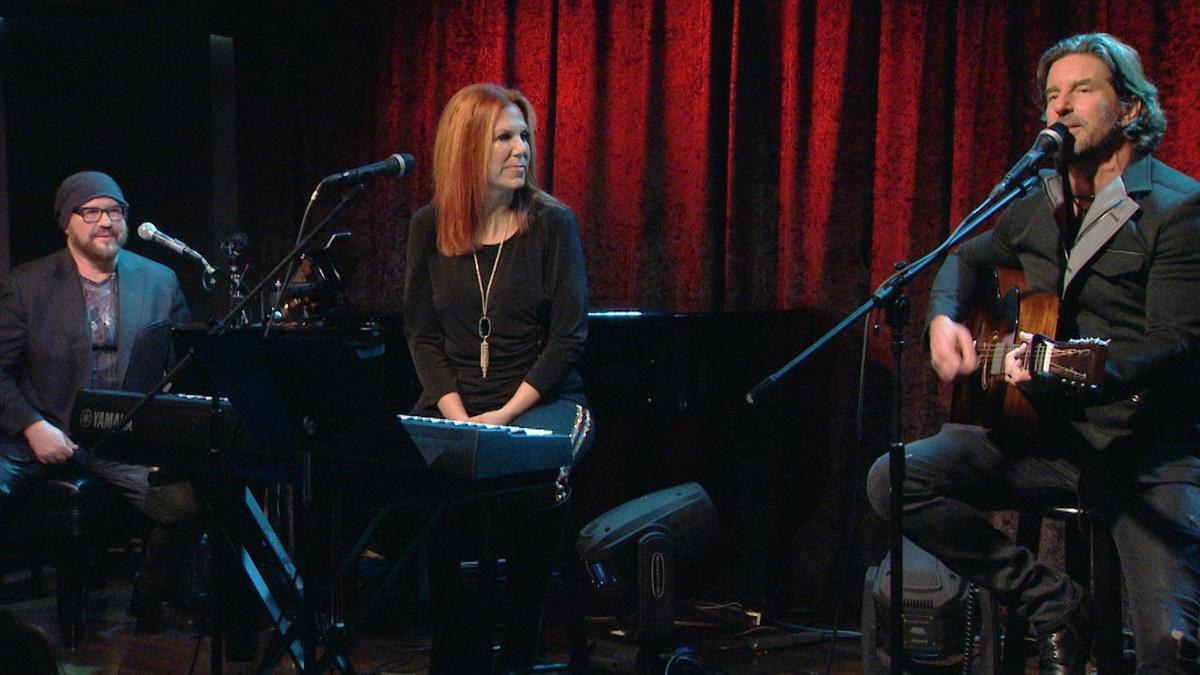 Premiering Oct. 16, the program is hosted by Shaw, who takes audiences on a candid journey to reveal the stories that informed hit-songs. To do so, Shaw invites fellow musicians, songwriters and friends to the stage to share the writing processes underlying their chart-toppers. Surrounded by a candle-lit crowd, intimate, acoustic performances are interspersed between the musings, offering a chance to hear the songs sung by their creators.
Together, the guests span decades, genres and discographies, representing songs written for the Dixie Chicks, Elton John, Faith Hill, Rascal Flatts, LeAnn Rimes, Trisha Yearwood, Olivia Newton-John, Christina Aguilera and Aerosmith, to name just a few. Among the songwriters featured in the series are Brett James (Carrie Underwood's "Jesus, Take the Wheel"), Desmond Child (Bon Jovi's "Livin' on a Prayer"), Angela Hunte (Alicia Keys and Jay-Z's "Empire State of Mind"), Erika Ender (Daddy Yankee and Luis Fonsi's "Despacito"), Kevin Cronin (REO Speedwagon's "Keep on Loving You"), Mark Hudson (Aerosmith's "Livin' on the Edge") and more.
Prior to the premiere, we asked Shaw to interview celebrated songwriter and friend Desmond Child. Read their chat about the premiere of his episode (which also features Brett James and special guest Erika Ender), the upcoming release of his new album and much more below.
Victoria Shaw: Hi Des. Where did I catch you? Where are you?
Desmond Child: I'm in Miami for the Latin Songwriter Hall of Fame awards.
VS: Hey, thank you for doing my TV show. Do you know that yours is the first episode we're airing?
DC: Really?
VS: Yeah, it's the debut show. That's how much I love it. Also, did you know that I ended up doing seven episodes of my show instead of six? We just taped the seventh show last week. My guests were Lee Brice and Patty Smyth.
DC: Ahh, I love her.
VS: Then my surprise guest was Constantine Maroulis. Oh, and you wanna hear another cool thing? Bette Midler came to the show! She and Patty are very close friends. I had gone to coffee with Patty and told her that Bette and I wrote a couple of songs a few years ago, and she said, "I'm going to invite Bette," and she did! It was really great to see her. She said she loved the show and was going to DVR it. So sweet. Then we started talking about the Ken Burns "Country Music" documentary. She's as obsessed with it as I am.
DC: Oh, that is so cool.
VS: I really think people are going to like my show. At least I'm hoping they will. I feel like they will. People like the concept of seeing the songwriters and hearing the stories behind the hits. Don't you think?
DC: Yes. I mean, just hearing it from the source. You get a special connection that's very profound.
VS: I've always felt this way when it comes to picking guests for my shows. It's like planning a dinner party. I want to figure out who would be fun to sit next to Desmond. Who do I think you'll enjoy. It's liking paring good wine with good food! Ha! 'Cause you never played a show with Brett James, right?
DC: I met him a long time ago, but I had never played a song round with him. He's fantastic. What a great singer.
VS: He really is. I just knew the combo of you and him would be special.
DC: What about Erika Ender? What about her?
VS: I can't thank you enough for introducing me to her. I adore her and what a special performance she did.
When's your new CD coming out?
DC: We're doing the launch party at the end of October. We're having a launch party on the 28th. Are you around?
VS: Unfortunately, I won't be in New York that week. You should invite Jim Caruso, Erich Bergen and Constantine.
DC: Constantine is always good for stuff. He's like one of those slightly wicked princes or a knight or something. Like out of "Game of Thrones."
VS: What does that mean? Like he's mischievous?
DC: Mischievous, but kind of speaks largely and poetically.
VS: Yeah, and he's a good guy. I love watching him on Instagram with his little daughter. He's a good daddy.
And this is a CD of the live show you did at 54 BELOW in New York, right? I wasn't in town for that one, but I saw you do it at Rose Theater at Lincoln Center. What a great great night that was!
How many songs are on the album?
DC: Twelve. Well, actually more than that because one of the songs is a four-song medley of Ricky Martin, and then there's a medley of "You Give Love a Bad Name" and "Dude (Looks Like a Lady)."
VS: I told you this that night of your show, but I have to tell you again. Because we're such good friends. We're literally family and have been for almost 30 years. Sometimes we forget just how incredibly talented our family is, and when I sat out there in the audience…I mean it was just hit after hit after hit after hit. It really reminded me what a spectacular songwriter you are. I mean, really, you didn't even get to do ALL your hits in that show!
DC: No, I had to throw like 70 of them out because there was no room or time for them in the show.
VS: Did you say 70? As in seven-zero? [Laughs] I would like to say that someday! I would like to say "I had to throw 70 songs out of my show cause I didn't have room". Oh my God, that's incredible.
Hey, I get asked this a lot. Do your kids realize how successful you are? Do they understand how cool you are? I'm not sure my kids always get it. Although I'm always happy to just be "mom."
DC: Right now, they think everything I do is embarrassing.
VS: They're supposed to think that. They're teenagers [laughing]. But that's not really true because I've heard them talk about you when you're not around and they are very proud of you. It really is amazing how our kids have grown up together. It's really sweet.
DC: Yeah, it's wonderful.
VS: Of course, they don't TALK a lot. It's a Snapchat world these days, but at least they keep in touch. I love that we all lived so close to each other.
DC: But guess what: That era is over.
VS: More for me than you, my friend. My last little chick left the nest a month ago. It's really weird. Really weird. It's OK, and it's the natural progression of things, but it's odd. I'm not gonna lie.
DC: I decided when the boys go off to college, I'm going to take my husband, and we're gonna go all around the world.
VS: Really?
DC: That's what we're gonna do. I'm going to be singing and performing all over the world. I'm going to sing with full symphony orchestras.
VS: Now, that's a great plan, Des.
DC: I'm going to sing with a full symphony orchestras in Greece under the Acropolis. I could be like the next Yanni. [Laughs]
VS: [Laughs] I love it! Yanni, but with cooler clothes. I can just picture that.
When is your book coming out?
DC: It's coming out in the spring. I don't have the exact date yet. The book's called "Livin' on a Prayer: Big Songs Big Life" with David Ritz.
VS: That's so exciting. How long did it take you to write it?
DC: Three and a half years. Very painful.
VS: I bet. I don't think I'd have the stamina or the patience for that. I think I've done SO much therapy that I'm almost talked out when it comes to me. Ha! Not sure I could go all the way back there again.
DC: Yeah, it was tough. But you know, when you meet someone new, like David Ritz, it's like you're telling them for the first time. You retell stories, and you get excited.
VS: And are you brutally honest?
DC: Oh yeah…I'm brutally honest. I like that. It's like that Patti Smith book, "Just Kids," she didn't hold anything back. It was amazing.
VS: I read that. It was so good.
DC: I've got to get some sleep. Tomorrow, I'm singing for 6,000 people. I'm the padrino, which is the godfather of Hialeah Pride. I'm going to be singing the song I wrote for Barbra Streisand called "Lady Liberty." That's the song that she and I co-produced together for her last album.
VS: How exciting! And I love that song so much. So basically, you're just getting busier when everybody else is slowing down in the business. You never cease to amaze me.
DC: Well, I don't know. It seems like it's almost a problem. You know, like it's compulsive.
VS: That's how you've always been. You're working on a Broadway show; you're writing a book; you're shooting a documentary; you're making an album. I'm exhausted just listing those things!
DC: Okay, I've got to go to sleep now. I have hair and makeup coming in the morning for the parade.
VS: Okay, have a good night. Love you, Des.
DC: Love you too.
This interview was conducted by Victoria Shaw. You can see (and hear) Child on "Songwriters Under the Covers with Victoria Shaw" on broadcast, online and on the ALL ARTS app.
Top Image: Songwriters Desmond Child, Erika Ender, Victoria Shaw and Brett James onstage for "Songwriters Under the Covers with Victoria Shaw."