When longtime friends Hank Willis Thomas and Eric Gottesman set out to create a political action committee in 2016, they knew they wanted their organization to live at the intersection of art, politics and public participation.
"We think that art is always politics, and all art is political," Gottesman said in a recent episode of "The C-Files with Maria Brito." "And public policy is a reflection of our culture, which art creates. So we wanted to expand what it meant for people to be politically engaged and civically engaged."
The duo began looking at past examples of art that revolved around those themes, finding their first jolt of inspiration in Norman Rockwell's "Four Freedoms." First published as a rallying cry for the war effort following Franklin D. Roosevelt's State of the Union Adress in 1941, the series depicted Americans exercising four fundamental human rights: freedom of speech, freedom of worship,  freedom from want and freedom from fear.
After looking at the 80-year old portraits, it was clear to Gottesman and Thomas that Rockwell's interpretation left out a huge swath of Americans.
"Not only were the freedoms limited to four, but also the definition of who was entitled to those freedoms as Americans was pretty limited," Gottesman explained. "… So we were interested in blowing out that idea of who is included, and who is considered to be leading our society."
The result was the creation of "For Freedoms," which the two describe as a platform for creating civic engagement through the arts. In an homage to Rockwell's series, the PAC's first major project was reinterpreting his illustrations to reflect the varied demographics of the people who have long-called this country home.
"We wound up doing 82 versions of Rockwell's 'Four Freedoms' images," Thomas said. "I think you'd be hard-pressed to not find representatives of people you consider to be part of your community."
The success of their Rockwell adaptation has since led to a series of other projects, the most large-scale of which launched in 2018 under the title "The 50 State Initiative." As part of the art activation, For Freedoms and the scores of artists who work with the PAC designed a series of vague, yet nonetheless arresting, billboard ads.
One erected in New York City, designed by Thomas, states "LoveOverRules" in white lettering against a glossy, brick-red background. Another simply asserts "WE ARE THE ASTEROID" in bold font that resembles the cautionary signs that border construction zones. The idea, according to Thomas, was to use public space in a way that would challenge the status quo or provoke thought about deeper societal issues.
"We are in an age where branding trumps everything," Thomas said.  "What's really interesting about art is that it asks questions that are often unsettling. So, what would it mean to put billboards across the country that didn't necessarily sell anything, other than an idea that we wanted to put out into the world?"
The answer, it turns out, was engagement. Since its inception, the "50 State Initiative" has maintained a presence in all U.S. states and Puerto Rico and Washington D.C., spreading into a series of town hall events and other opportunities for public discussion.
Watch the video below to hear the co-founders explain the project in more detail and find out about their plans for the future.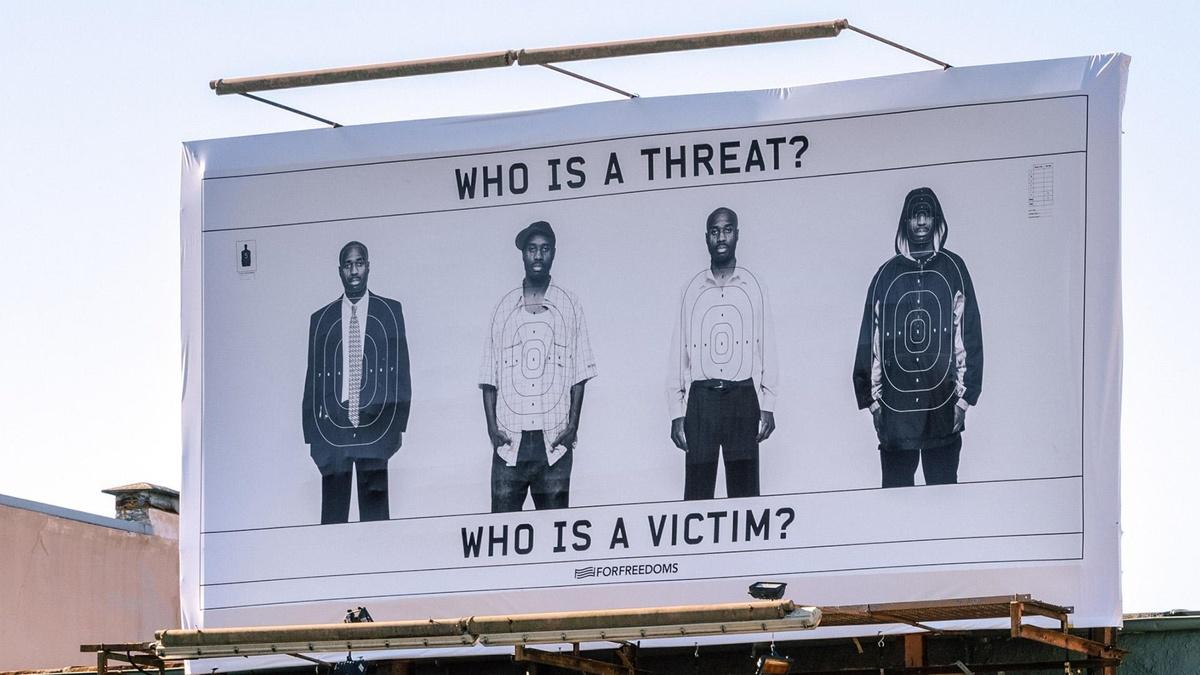 Stream more episodes of "The C-Files with Maria Brito," now streaming in the video above, as well as on the ALL ARTS app, YouTube and Facebook page.