Spurred by the desire to address climate change through art, choreographer Eryc Taylor began ruminating about "EARTH," his collaborative dance project, about two years ago.
"I wanted to take action as an artist and as someone who cares deeply about our planet," Taylor told ALL ARTS. "I've traveled around the world and have personally seen the devastating effects of global warming in places such as Patagonia, Chile…"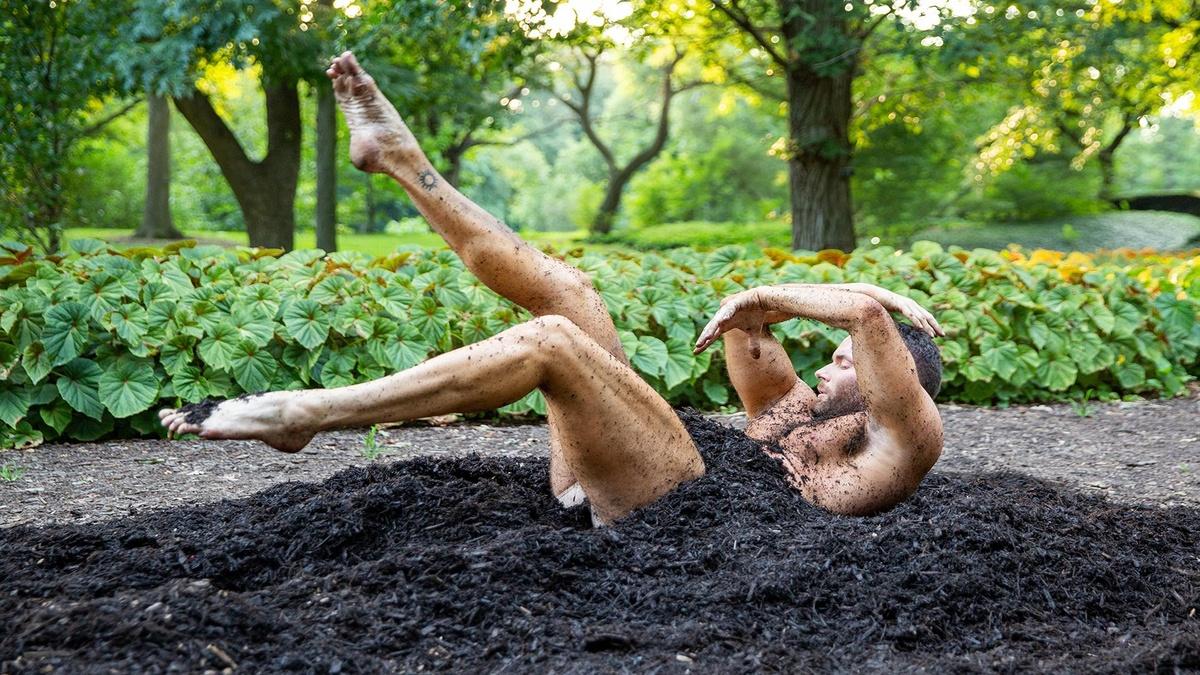 Staged by his company, Eryc Taylor Dance, the resulting program includes two original works by the choreographer and five pieces created by past recipients of the company's New Choreographer Grant. Sprinkled throughout the year, the guest pieces are presented to the public through workshops, all of which serve as opportunities for the community to come together and learn about the climate crisis.
In July, Eryc Taylor Dance premiered the first work in the series at the Brooklyn Botanical Garden, where it was captured for the new ALL ARTS digital series "Climate Artists," presented in partnership with Peril and Promise. We spoke with Taylor about his multi-faceted project, how to carry the discussion about climate change forward and what's next for his company.
The structure of "EARTH" is very unique. Can you tell us how the format came about?
I wanted to use dance as a way to tell the story of our planet from the beginning: "The Big Bang"; to where we are right now: "Man Forgets Earth"; and to where we're headed: "Earth (Man) on Life Support." I'm interested in making work that is meaningful and educates the public. It is my responsibility to use my art as a platform to spread awareness and start dialogue. I think contemporary dance can be a bit self-absorbed and abstract at times, and often has no narrative. But if people can use art as a way to talk about social issues and relevant social topics that matter, it is the way to move us forward as artists and as human beings.
For this project, I chose five guest choreographers to work with me on [the] creative process to help tell and shape the story of "EARTH." They were selected from a pool of previous recipients from the company's New Choreographer's Grant program. I love collaborating. The work can only get better…
Could you elaborate a little more on the directly educational aspects of the project?
This project involves many artists, collaborators, guest choreographers, composers, videographers and photographers. And together as a team, we have been workshopping each section with funding support of the Lower Manhattan Cultural Council (LMCC) and the Marta Heflin Foundation. At these studio showings, we have been able to have informative dialogues with the audience about each section and to examine ways we can all be better global citizens.
Some topics that have come up include recycling and exploring different ways to reduce plastic and our carbon footprint. We have also educated and introduced the audience to many environmentally focused organizations such as Greenpeace USA, the World Wildlife Fund (WWF), the UN Environment Programme (UNEP) and influential individuals. I want to bring awareness to organizations such as these because I strongly feel their missions should be supported. They all have messages that are so important in addressing our global climate crisis.
How do we ensure that we carry this energy forward and outside of the performance space?
There is always an energy in the performance space when the audience sees the work. And in an effort to keep that energy alive, at each showing, the company and I strive to provide educational materials about recycling and reusing. We also aim to discuss ways to be proactive about daily living habits, so that it doesn't come across as a large and daunting task, but rather little things we can do to make a difference.
Carrying the conversation outside the theater is extremely important, especially utilizing social media platforms and sharing inspiring stories about how different climate organizations and other [cities] such as London, are mobilizing massive crowds to stage protests and are really bringing attention to our leaders to implement positive change to battle global warming and climate change.
It is also key to utilize other media outlets, such as television, guest writing in blogs and other written, audio and visual modes of communication to reach a broader audience.
And finally, using your vote is so important in supporting candidates who are proactive about climate change. Get out and vote!
Through the workshops, the project gives funds and space to choreographers to create their pieces. What's the importance for providing these resources?
As a choreographer, the two main challenges faced in the dance field are finding space and having the funds to create and rehearse. Through the Eryc Taylor Dance/New Choreographer's Grant, it is the mission of the company to be able to help support the next generation of dancers and choreographers. It is also something that I am very passionate about.
Through a rigorous application process, we are able to provide three emerging choreographers each year with the resources needed to create a new work-in-progress. It's a way to help them to establish themselves as professional artists in New York City and help them grow in their artistry. It's also a way to ease the stress of having to balance making a living and creating art. As it pertains to "EARTH," the collaboration is integral to the process and gives the choreographers the financial cushion they need to comfortably create and know that their artistic skills are valued.
What are your plans for the future?
My plans for "EARTH" are to have the world premiere in Africa and perhaps another showing in Key West, Florida, where I staged my first site-specific work as a prayer for the world after the 9/11 attacks. It is my hope that for our next project to focus on the use of graphene as a way of desalinating ocean water to address the refugee crisis. I really want to continue using dance as a way to bring to light important social issues around the world.
This interview has been condensed and lightly edited.
Sign up for our newsletter
Top Image: Eryc Taylor Dance. Photo: Shannel Resto.