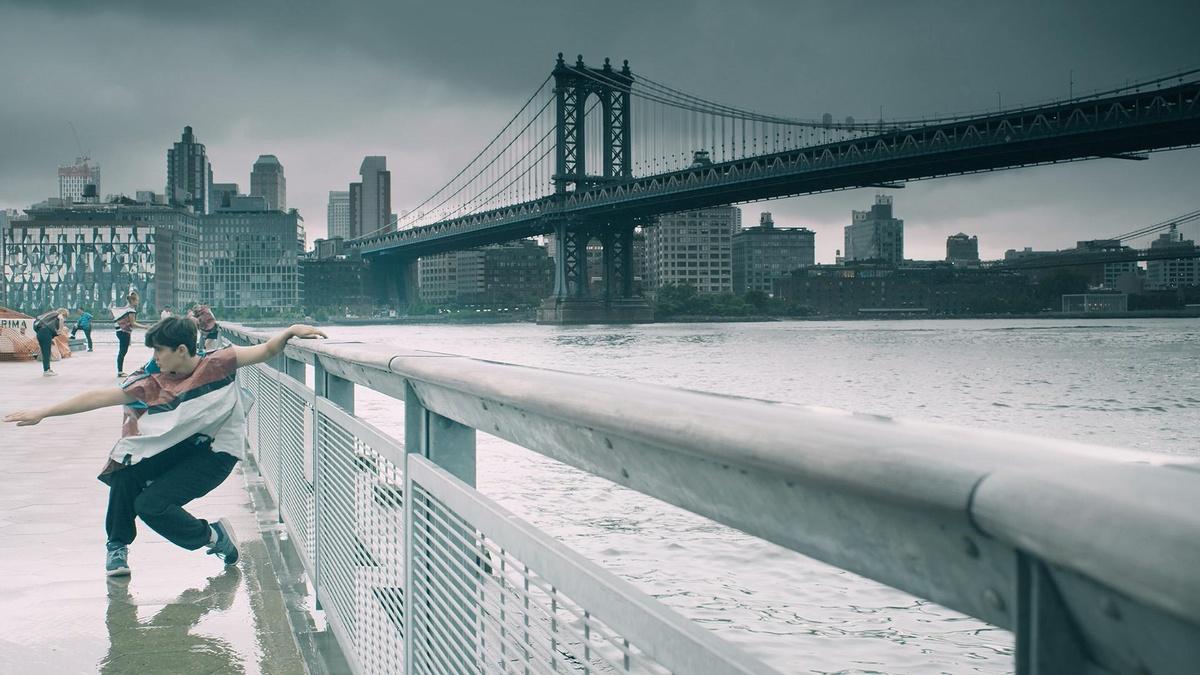 "Have you seen the horizon lately?"
This question, spelled out and displayed in Lower Manhattan, appeared as part of Yoko Ono's "The Reflection Project" — a large-scale installation presented this June as part of the Lower Manhattan Cultural Center's annual River to River festival.
The contemplative work was captured, along with pieces from Pam Tanowitz, Ernesto Pujol, Jennifer Monson and more, by filmmaker Liz Sargent for an experimental documentary titled "Slow Down: River to River." Commissioned by ALL ARTS, the film was shot by Sargent and her team over the course of eight days and offers a space for continued meditation on the festival's themes.
Ahead of the documentary's premiere on the ALL ARTS streaming app and broadcast channel, we caught up with Sargent to discuss the film, what it means to slow down in New York City and the process of representing ephemeral art forms.
Tell us a little bit about this film. What was the process like?
My first job in NYC was as an intern for Lili Chopra at Dance Theater Workshop, and the first show I directed/choreographed was for Lower Manhattan Cultural Council [where Chopra serves as executive director of artistic programs]. So being asked to reflect on Lili's curation for River to River was nostalgic because I didn't feel like I was reporting out on the festival or being voyeuristic, rather it felt very personal. I did not want to do a straight "documentary," I did not want to explain the festival. Instead, I wanted to take Lili's lead and ask the viewer to take a minute to immerse themselves in a moment, in the landscape of Lower Manhattan, with the artists from the festival, and use their own imagination to find meaning or inspiration or questions within the work.
Lili speaks of the festival work as "an invitation," which I really love. So, this film is also an invitation, a glimpse into the festival, because there is no way to really document a festival or a live experience. A film should not replace that experience — it should make the viewer mark their calendar to attend the festival. Because live performance is NOT to be missed!
Were there any art forms that you felt particularly drawn towards while making this project?
I studied modern dance at North Carolina School of the Arts, so I am always drawn to dance and curious to explore the challenges in translating an ephemeral experience. It was fun to bring back my dance vocabulary, which often seems to be a series of sounds and gestures, but somehow dancers are so intuitive to this way of communication — it really felt like home to me! It's so great to take dance out of the theater and frame the work within incredible landscapes. [ Producer and Director of Photography] Minos Papas and I wanted to be sure that every shot was carefully considered to tell a story about the overbearing concrete versus the expansive, promising cityscapes. So, we reset each artist's work to highlight the city and bring out the juxtaposition of art/city and speed/deceleration.
I'm also a huge fan of Yoko Ono's work. It hits so deeply and simply and elegantly to my heart. To capture the spirit of "Add Color (Refugee Boat)" was an exciting challenge because at its most basic, it is a gallery exhibit, but at its greatest, it is a political movement for hope. This section of the film was not about what we see, but about what we feel as a participant. And maybe it makes you wonder what you might add…
What does it mean to "slow down" in NYC and how can art help us do that?
As New Yorkers, we have seen almost everything. We are almost immune to spectacle. So how do we surprise or slow down the city? What I love about this festival is that it does not fight against the grain of the city. It seems to sit within the chaos of the city — in the empty storefronts, in the digital advertising, within the street you walk down, the office building you work in, at the park during your 5 a.m. Tai Chi. It sneaks into your daily agenda and makes you pause. And for a New Yorker, just pausing is a miracle. Slowing down does not mean stopping, losing time or not thinking. It means taking a moment to feel, think and re-center yourself — so you can feel powerful within the pace of the city that we so love/hate.
There is a seamless integration about the art for this festival that is not aggressive, imposing or lecturing. I think that's when art can have an impact on new audiences. River to River brings this avant art to new audiences and let's them feel comfortable to consider even just the basic question of why this work is in their space. I think just pondering that question leads to the understanding of the importance of art in America.
Where's a place that you go to slow down and why?
Hmmmm…I'm actually really bad at slowing down! But perhaps like a "real New Yorker" I slow down in an active way. I walk home across the bridge; I help a friend paint their apartment; I go see a performance. These are ways I can make my overactive mind focus on one thing deeply for a few hours. It's how I get a moment to feel clarity about what I'm feeling, what I've been avoiding, or just taking a moment to dream.
What projects are you working on next, and do you plan on carrying forward the idea of slowing down into your future pieces?
It's an odd feeling to be in quiet, tiny Cyprus as this film premieres, but it gives me perspective on my life and New York City. So, I'm here writing a few shorts and a feature I've been thinking on for a long time. In film I like to explore time in detail, meaning that within one moment there are so many gestures, reactions and "poetics" to be explored. This seems to be the opposite of how mainstream films are made today. So, my idea of slowing the viewer down is really just to immerse them in a new world or idea, and to have an impact on them enough to be curious and empathetic to a different human being.
This interview has been lightly edited.
Top Image: Behind the scenes photo from "Slow Down: River to River." Minos Papas, Liz Sargent, Melissa Toogood and Reid Barteme. Photo: Jen Kim.