The music doled out by Mwenso and the Shakes is effusive, overflowing with elements of classical jazz, blues, world music and tap. When played live, this amalgam of ideas and musical references has garnered the spiritual jazz-outfit with a reputation for energetic sets and genre-pushing inventions.
The band is now debuting its first studio recorded album, titled "Emergence [The Process of Coming Into Being]." The album features popular songs from the Shakes, such as "Resolute" and "No Regrets," in addition to new recordings.
"Emergence" recalls the band's unique live performances, frequently staged at the Jazz at Lincoln Center late-night standby, Dizzy's Club, along with other local venues — including BRIC Celebrate Brooklyn!, filmed by ALL ARTS last year for the Set List (streaming now in the video below and on the free ALL ARTS app). Mwenso hopes that the record will have the power to transport audiences to the stage.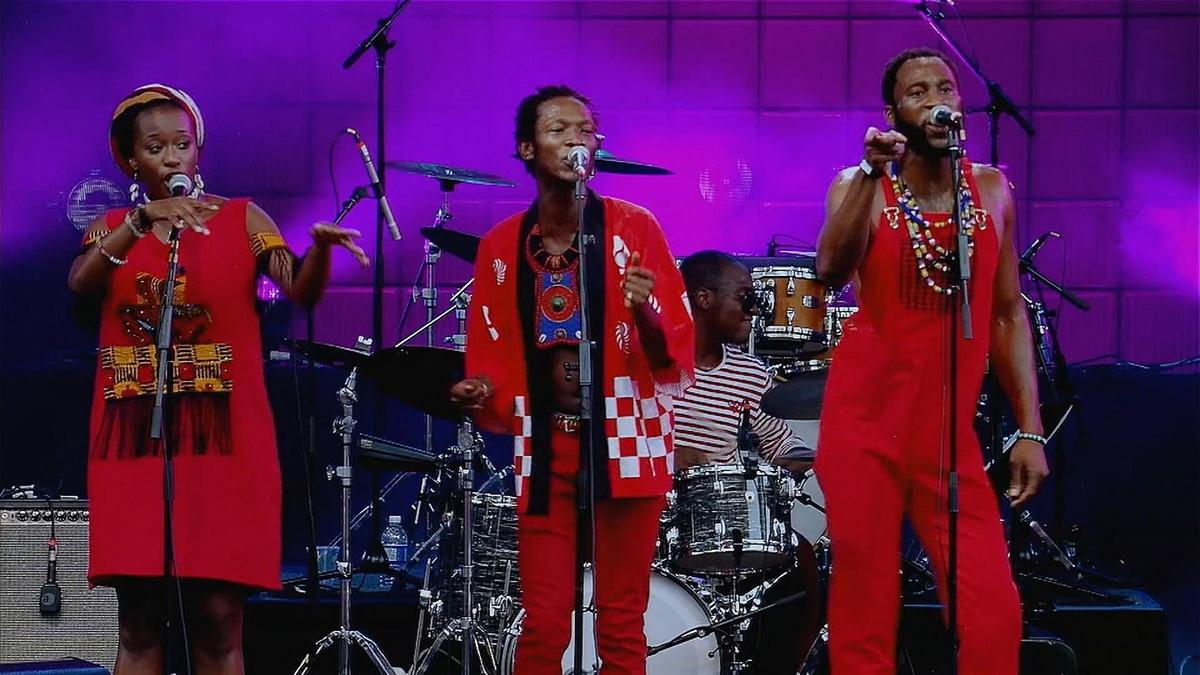 "The variety of musical styles that is presented here is something we have diligently, as a group, been working on over the last few years," vocalist and bandleader Michael Mwenso told ALL ARTS. "I truly believe there is something for everyone in this album. I want people to listen to this album like they are in the audience. Close your eyes, put it on and imagine you are there with us on the journey."
In an interview with ALL ARTS earlier this year, Mwenso shared how this sense of traveling through space and music resonates in the band's work.
"The aim is to play in a very new, modern, acoustic, electric way that devises a concept that allows you to play through all the music," Mwenso said, later adding that "the whole concept of the Shakes is that we travel through time, and we try and do it through a seamless, spiritual, musical-kind of journey."
For his part, Mwenso serves as a shepherd, both for the listener and the band. During live performances, the vocalist is an enigmatic presence who ricochets between conducting the group, dancing and singing — a role he carries with him both on and off-stage with a determined sense of responsibility.
"Leading anything in the world, of any kind of artistic substance, in this time, is extremely hard because of the level of low quality things that we have to deal with in the world," Mwenso said. "So if you decide you want to lead people and you are trying to lead people about empowerment and love, it's gonna be a weight, but you have to believe in it. And you have to believe in it in a way like, 'We have come from many places to be to get here and speak to you like this and for us to get to be where we are now as a group.' But that takes a lot of good days and bad days. And as a leader, you must know that you have to carry that weight if that's what you really want to be in the world."
Unique to the Shakes is the musical troupe's integration of tap, performed by dancer Michela Marino Lerman. As a percussive instrument, Lerman's tapping functions as both a performance component and an integral part of the music that works its way into recordings. This fusion, Mwenso explained, comes from Lerman's rhythmic stylings being a part of "the whole construct of what's going on musically" from the start, as opposed to being tacked on as a solo feature in live performances.
The inclusion of Lerman's unique creative energy factors into the overall idiosyncrasies of the Shakes — of which there are many — and help feed into the creation of community fostered by the group. Here, not only does the Shakes navigate a deep lineage of "ancestral" genres and styles, but they also cull together a diverse range of geographical backgrounds through the band's rotating cast members, who are based in Harlem, to create a surprising mix of sounds and personalities.
Clocking in at just over an hour long, the new album from the Shakes marks a fresh chapter in this development of the band's eclectic musical community and its mission.
"This album is very personal to the musical and spiritual growth of Mwenso and Shakes," Mwenso said. "Our music has become something that expresses empowering messages of love and overcoming."
A release party for the new album will take place Aug. 1 at Chelsea Music Hall. Learn more about the band and see their BRIC Celebrate Brooklyn! performance here.
Top Image: Mwenso and the Shakes at BRIC Celebrate Brooklyn!