The Brooklyn-based duo Jazze Belle eschews musical genres. Comprised of Taylor Simone and Jett Carter, the band purposefully releases tracks that defy clean-cut categorization, finding a home somewhere at the intersection of hip-hop, funk, soul, folk and rap.
"Making music for us started with less of a commitment to avoid one genre and more of us trying to be as exploratory as possible," Simone told ALL ARTS about the pair's philosophy. "…Over the years, we were playing around and discovering our sound with the listeners. But I feel like, especially these days, what is genre anyway?"
Classifications be damned, it's an eclectic sound that serves the aspiring New York musicians well. The success of singles like "Shoulda Coulda Woulda," a lyrically pithy hip-hop song, and "Forever Don't Exist," a more somber, soulful entry in their catalog, has earned them accolades and the opportunity to perform at some of the most notable concert festivals in New York City.
ALL ARTS captured one such performance at last year's BRIC Celebrate Brooklyn! Festival and is broadcasting the performance with exclusive interviews on the ALL ARTS channel June 19 at 8:30 p.m. The full show is also streaming now in the video below and on the free ALL ARTS app. To commemorate its launch, we spoke with Simone about her latest solo ventures, her musical inspirations and more.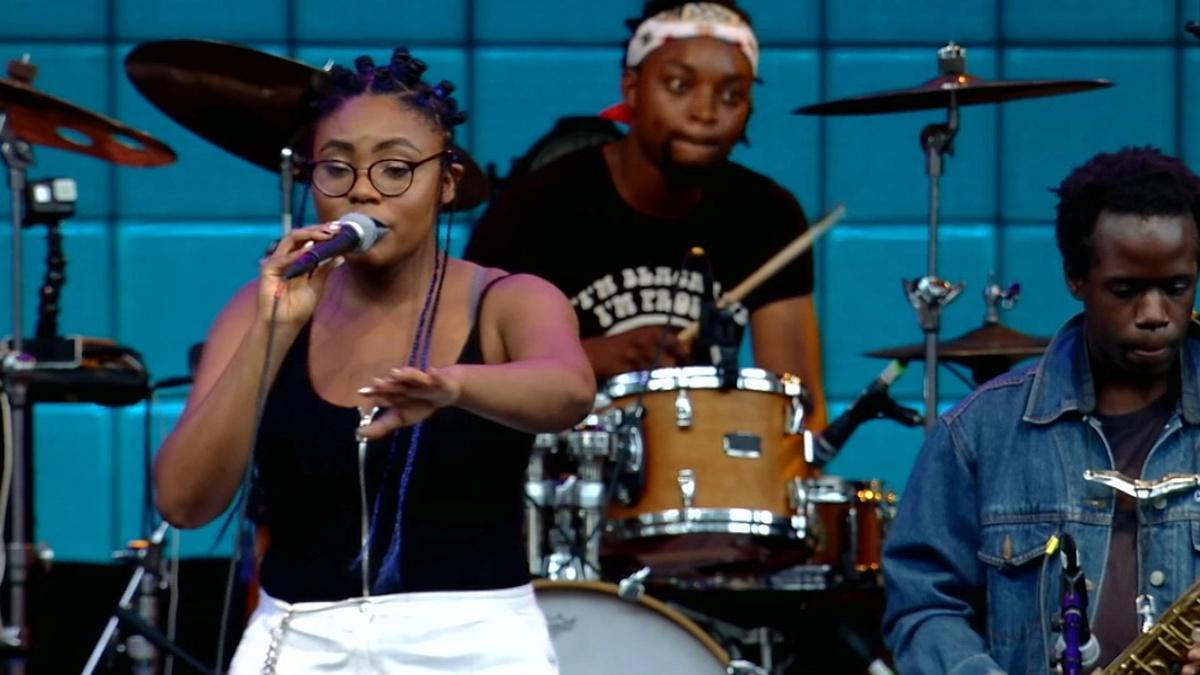 Question and Answer:
Who are some of your musical inspirations, and why?
We have so many musical inspirations! From Jill Scott to Joni Mitchell, from Little Dragon to Radiohead, from Earth, Wind and Fire and Stevie Wonder to Dilla and Erykah Badu. The list goes on and on. You may not hear all of these influences in our music, but we are inspired by musicians who are authentically themselves and pave the way for new collaborations to be made in music. We're also inspired by the music scene in New York City and all the awesome musicians we've played with over the years.
What song are you most proud of?
This is a tough question because we are proud of all our work!  I guess it will be a three-way tie between "Shoulda Coulda Woulda (SCW)" "Everyday's Tomorrow" and "Forever Don't Exist". "Shoulda Coulda Woulda" is the song that started the Jazze Belle journey to where it is now, and it's a song we have fun returning to no matter how many times we've performed it. "Everyday's Tomorrow" is important to me because of the way we perform it live. The arrangement and energy behind it always make it my favorite song to sing. Lastly, I love "Forever Don't Exist" because it shows our progression. If "Shoulda, Coulda, Woulda" is how we started our journey, "Forever Don't Exist" has brought it to the present.
When you were younger, did you always want to perform?
Both Jett and I grew up around music in different capacities, with Jett playing drums and me playing piano. But I didn't want to be a musician and performer until high school when I was writing my own music.
Can you take me through your writing process, sort of set the scene of songwriting?
Throughout Jazze Belle, my writing process has changed a lot. I feel like after writing songs or a project, I've taken notes on that process about what I liked and what I didn't like from it, and try and improve it for myself. For a while, titles used to come to me first before music, and that would spark the song. Now, what was once a song idea became a concept for the project, like "Go To Bed Standing Up." Of course, there are those times where inspiration strikes you, and thank God for those moments! But for me I feel like those moments only come to me after the continued practice of writing.
What are you looking forward to?
Well, what's next for me, and I believe the rest of the band as well, is pursuing our solo music interests. I'm currently working on a project called "The Privilege of Memory," which I'm excited to release in the next month. I'm looking forward to seeing what the rest of the Jazze Belle team — all amazing artists in their own right — have coming up as well.