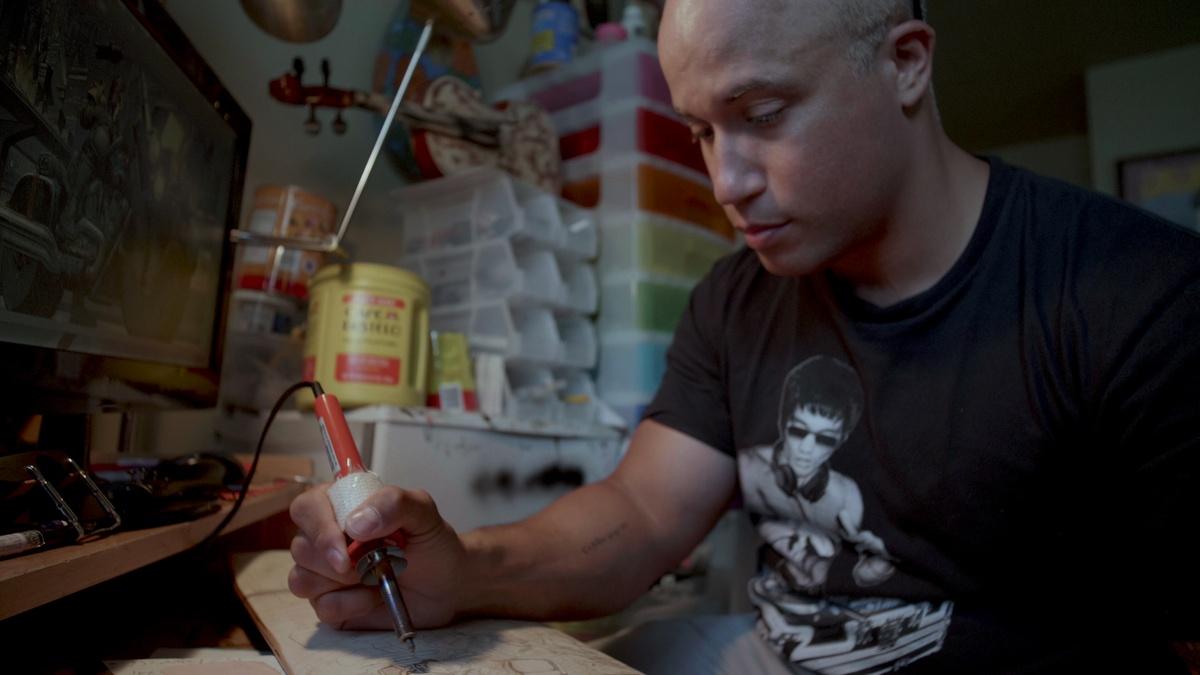 Rafael Colon never aspired to be a painter. The South Bronx native took art classes growing up because they were usually easy, and he steered clear of art history lessons altogether. So it's a surprise to him, most of all, that he's found considerable success in his mid-40s as an artist who recreates famous paintings by Leonardo da Vinci, Pablo Picasso, Georges Seurat and other master artists.
"I definitely didn't see this coming," the fitness trainer and Marine said in a recent interview with ALL ARTS. "It's not something I would have guessed."
His recreations, now on display at Art on A Gallery in Manhattan, come with a definitively contemporary twist: Colon spurns canvas for the pieces, instead taking the sleek deck of a skateboard as his preferred medium. It's a symbolic choice, one that attempts to make fine art accessible, even friendly, to kids and teens in his South Bronx community.
"A skateboard is something that's so recognizable," Colon said. "Everyone knows what it is. It doesn't matter whether you're poor, you're rich, or what demographic you are. You know what a skateboard is. It has that Americana feel to it, and it sort of feels like it belongs to this nation."
The idea for the masterpiece project started about two years ago. Colon, who had been dabbling with painting on shoes and skateboards at the request of his daughter, took a chance visit to The Metropolitan Museum of Art. He overheard a tour guide discussing the different mediums master painters used to create their works, including wood — a moment Colon described as "a lightbulb going off." He then began his studies in earnest, channeling the obsessive nature he typically reserves for his career as a fitness trainer into the research of historical art and its creators.
"That was my first introduction to art history," he said. "I started reading books, I started going online and watching documentaries. The Met also became like my second home. But each piece is an education. I'm learning throughout that whole process until that piece is done. Then, the next skateboard is another new process and a whole new world."
Using oil pens, markers and a wood-burning process known as pyrography, Colon has since created his own interpretations of Georges Braque's "Woman With Guitar," Michelangelo's "The Creation of Adam," Jacques Louis David's "Death of Socrates" and many, many more pieces usually found in textbooks and at the world's finest museums. The works have turned his Instagram page, where he documents his process, into a veritable online art gallery that operates at the little-known intersection of high culture and skate culture.
The response has been overwhelming, he said. He's been invited to give after-school art lessons at public schools, and several of his works have been auctioned off in charity drives for organizations like Wounded Warriors.
He describes it as a delightful career renaissance, one he hopes he can continue for the foreseeable future.
"It's never too late to find your niche," Colon told ALL ARTS. "It needs to be the right time. It just so happened that art came to be when I needed and wanted it most."
Top Image: Rafael Colon