Update 7.17.2019: By popular demand, ALL ARTS has added all three seasons of "Borgen" to its free streaming app and website. Watch wherever you want, on whatever device you want, with no commercials or fees. 
When "Borgen" first premiered in September 2010, the Danish drama hailed as a darker, more gripping version of "The West Wing" immediately became a critical darling. The show — titled after the nickname given to Denmark's parliamentary building — spins around the country's fictional first female prime minister, Birgitte Nyborg (Sidse Babett Knudsen), as she deftly navigates partisan politics. Over the course of three compact seasons, the show tackled institutional misogyny, Machiavellian machinations, media sensationalism, palace intrigue and more. In short, it was a foreign import perfectly suited for U.S. audiences.
Yet, there was a problem: It wasn't available for streaming. And, when it finally dropped on iTunes, buying the episodes proved costly and rendered the must-see drama unwatchable to swaths of would-be viewers. To celebrate ALL ARTS streaming all three seasons for free on the ALL ARTS app, browser and broadcast channel, we've rounded up a few key facts for those eager to dive into Nyborg's world.
A Feminist Charge Runs Throughout the Series
At its core, "Borgen" is about a woman in power — and the public and private reactions to women in power more generally. For her opponents and the watchful press, Nyborg's gender is an asterisk hanging above every decision, every policy choice and every perceived misstep. If she flounders, it's not just any other politician acting in error. It's the first female prime minister floundering, and Knudson's character is hyper-aware of the elevated significance of her actions.
Nyborg, to Knudsen's immense credit, proves sophisticated and skillful in maneuvering her uncharted territory. In the first episode, we see her toss out a planned speech during a debate and improvise a gutsy appeal to voters, stripping pageantry from the campaign trail. "I believe we must own up to our mistakes, and admit it when there's something we don't know," she says, after first disarming the audience with a joke about her dress. "I became a politician because I once held strong views on how this world should be. I still do."
That's not to say she's perfect. The show allows its female characters to be flawed and three-dimensional in their personal and professional lives. We won't spoil storylines here, but suffice it to say that we see these traits with Nyborg and her academic husband, as well as through journalist Katrine Fønsmark (Birgitte Sørensen), who must navigate systemic sexism in yet another industry dominated by powerful men.
The gendered asterisk hanging above Nyborg and Sørensen's choices will always function as a bullseye for their antagonists. But, for viewers at home, the duo's status as capable women makes for compelling — and, yes, inspirational — viewing.
It Hits Close to Home
In theory, a show about decent Danish politicians wrestling with the minutiae of policy could perhaps be irrelevant or even alienating to American audiences. But that's not "Borgen." This is a show that includes storylines about racist politicians, so-called spin doctors, a military base in Afghanistan, gender equality in big corporations and the balance of domestic and professional pursuits. In some respects, it's as American as apple pie.
And, for faithful devotees of the political drama, "Borgen" also provides a more down-to-earth viewing experience than gorging on the criminal underpinnings present in "House of Cards" or the bow-tied plots featured in "The West Wing." Show creator and writer Adam Price has painstakingly delivered a grounded portrait of the modern-day political sphere. Here, the ebbs and flows of policymaking are made realistic, even humorous, through whip-smart writing that doesn't bother stretching the boundaries of realism.
It's Filled With Familiar — Or Soon to Be Familiar — Faces
Several cast members from the Danish hit have enjoyed starring roles in shows and movies widely consumed by American audiences. Fans of "Westworld" will recognize Knudson, who played Theresa Cullen in the futuristic HBO show. Meanwhile, Sørensen took a musical turn in "Pitch Perfect 2," had a one-episode stint in "Game of Thrones" and is set to star in Martin Scorsese's new HBO series "Vinyl." Pilou Asbæk — who plays a plays a love interest to Sørensen's character and a political fixer for Nyborg — is perhaps best known for his role as villainous Euron Greyjoy in "Game of Thrones."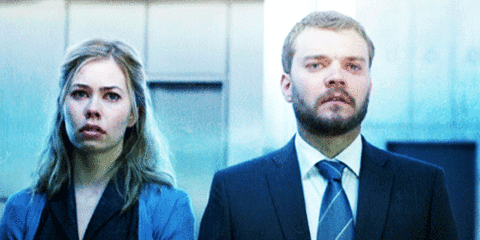 Stream episodes of Borgen here. Season 1 airs on broadcast on Thursday nights at 10 p.m. Check channel listings here. 
Top Image: Sidse Babett Knudsen (left) and Birgitte Sørensen in "Borgen."